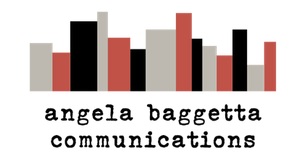 Angela Baggetta, currently managing director at Goldberg McDuffie Communications, where she has worked for 14 years, has founded Angela Baggetta Communications, a public relations company that will work with "authors, thinkers and doers" on publicity campaigns. She will be at Goldberg McDuffie until May 31, then do some work with the firm after that date on particular projects.

Baggetta has worked in on books ranging from serious nonfiction, politics, economics and business books to lifestyle, memoir and design. She has worked with Senator Sheldon Whitehouse, Senator Olympia Snowe, Google's Eric Schmidt, Garry Wills, Henry Louis Gates, Mark Penn, Simon Johnson, the late Christopher Hitchens, and many others.

"I'm delighted about Angela's next step in her estimable career," Lynn Goldberg commented. "Her excellent work at GMC over the years has been an integral part of our success and a source of pride to me, and I look forward to the continuation of our professional and personal relationship."