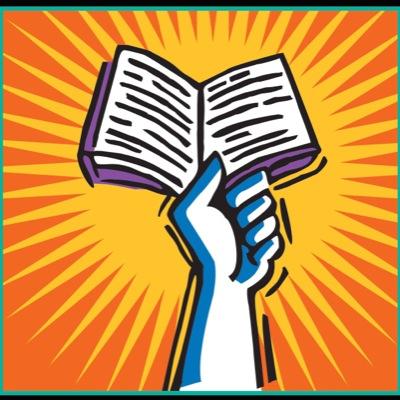 Although Samantha Schoech, program director for Independent Bookstore Day, indicated the organizers don't yet have statistics, she said, "I've heard nothing but good news." Many stores, she said, had lines outside when they opened. As for the most popular IBD items, "it completely depended on the store. "Green Apple Books on the Park sold out of the Bad Citizen Graffiti Stencils first," she added. "For other stores, it was the Jenny Lawson print or the Mo Willems onesie."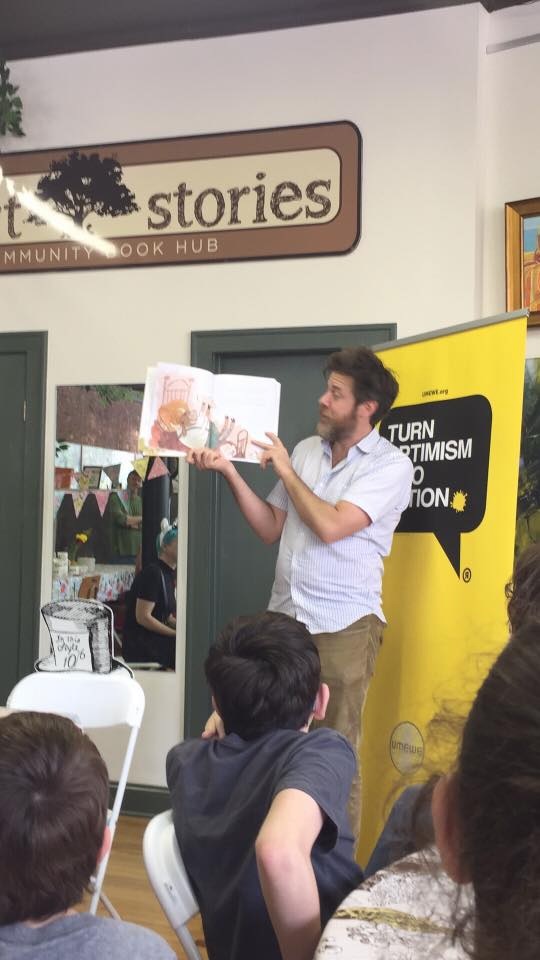 Scott Campbell
For Short Stories Bookshop & Community Hub, Madison, N.J., founded in 2014, this past Saturday marked the first time the store celebrated Independent Bookstore Day, which managing director Rachel Kempster Barry called "terrific."
Among its activities, Ame Dyckman read from her book You Don't Want a Unicorn!, "bedecked in her very own unicorn horn!" Illustrator Scott Campbell read XO, OX, then showed customers how to draw ox and gazelle. The kids helped him invent a new character, Alex the Bear--a formally dressed, video-game-playing bear carrying a foam sword.
In addition, Alice came from Wonderland for an Alice in Wonderland Tea Party. Short Stories staffer Laura Jacobson dressed the part and even practiced a British accent for weeks to convince kids she was the real deal. And Madison town council member Maureen Byrne read along with Clifford at Story Time, including some classic Clifford tales and one of her favorite books, Tacky the Penguin.
On Independent Bookstore Day, Rainy Day Books, Fairway, Kan., featured Kirsty Melville, president and publisher of Andrews McMeel, working with staff and customers. Also, as the store's newsletter said, "André's Confiserie Suisse Chocolate Hearts and the Classic Cookie Cookies were enjoyed by each and every customer of all ages. Customers registered to win prizes and surprises, including six themed gift bags from Andrews McMeel Publishing. The themes of six gift bags with books celebrated: Father's Day, Mother's Day, graduation, humor, Kansas City, and the modern poetry gift bag included a framed 8"x8" print of a reading-themed poem by Rupi Kaur."

At Gibson's Bookstore, Concord, N.H., traffic and sales rose about 4% over IBD last year, owner Michael Herrmann reported. The day adds about 40% in sales to the store's last Saturday in April, "so we were very happy to build on previous success."
Among the store events and treats were its usual IBD literary treats baked by Gibson's booksellers. One, brought by events coordinator Elisabeth Jewell, was raisin oatmeal cookies called "13 Raisins Why."
Quail Ridge speakeasy
On Saturday evening, Quail Ridge Books, Raleigh, N.C., featured a 1920s-style speakeasy called the Quail's Nest. Trivia teams, "a few dressed to the nines in '20s wear," as events coordinator René Martin put it, entered through the store's blue side door, where they sipped on cocktails FitzBourbon (old fashioned), "Zelda Gin" (gin Ricky) or "Stein Ale" (ginger ale) and answered questions on topics ranging from Vonnegut and Faulkner to Hunger Games and Harry Potter. There was even a brutal round compiled from difficult questions submitted by Quail Ridge staff. Winners took home gift cards and totes full of ARCs, while small literary prizes were given out for creative team names, hilariously wrong answers and best costumes.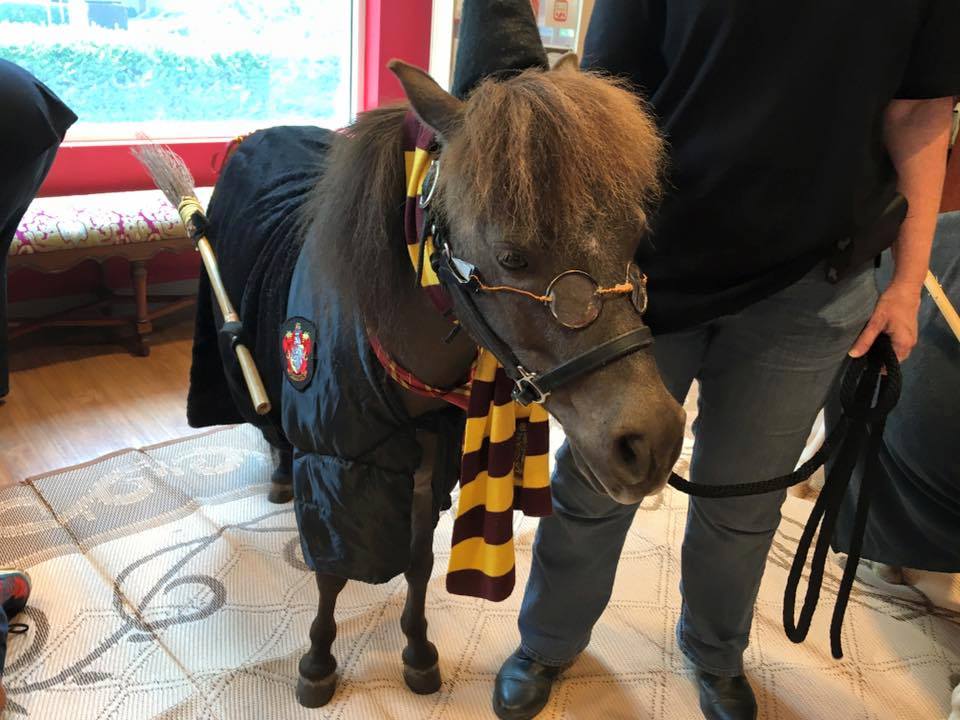 Yes, a miniature pony dressed as Harry Potter (at Quail Ridge Books).
Quail Ridge also had tiny literary ponies from Stampede of Love, which provides therapy ponies for kids.
Readers' Books in Sonoma, Calif., had what Barbara Hall called "a festive day-long celebration" for its customers and friends. The store offered chocolate chip cookies and brownies inspired by the books If You Give a Mouse a Cookie and If You Give a Mouse a Brownie, both by Laura Joffe Numeroff, illustrated by Felicia Bond.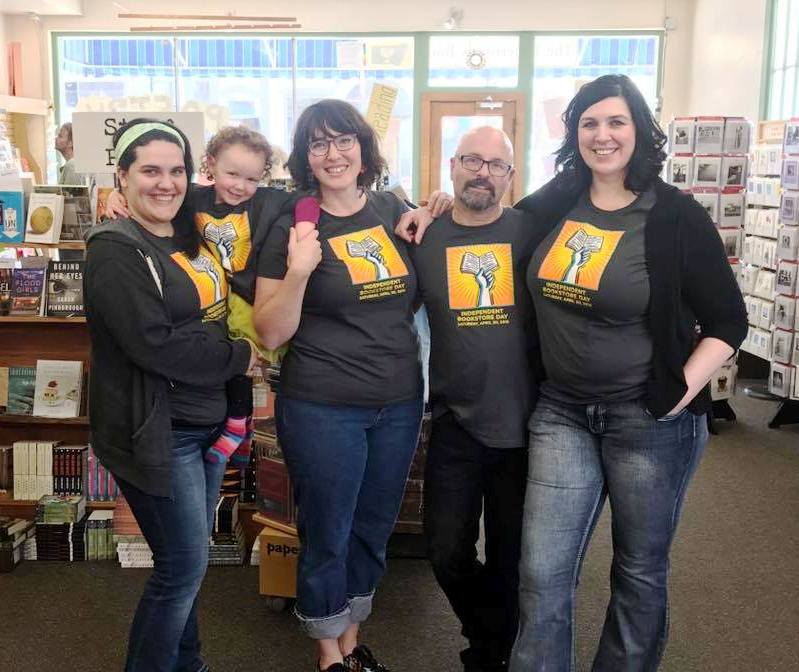 Chapter One crew:(l.-r.) Randi Burdette; Mikaela Downing (Mara's daughter); co-owners Mara Luther and Shawn Wathen; and Tamsen Mitchell.
On IBD, Chapter One Book Store, Hamilton, Mont., asked some of its well-read customers to be "a bookseller for an hour": they provided the store with titles they wanted to recommend, the store ordered them in quantity and the guest booksellers pitched those picks for an hour. Other events included a puppet-making station, followed by a puppet show, a wind tunnel for kids to play with gravity and a Skype visit with Hannah Lillith Assadi, author of Sonoma, for the Chapter One Book Club. The store was full all day, and sales were three times a normal Saturday in April.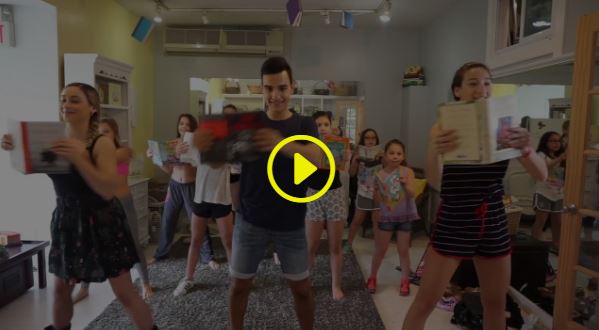 As part of its IBD celebration, Scattered Books in Chappaqua, N.Y., shared a new music video, Bringing Bookstores Back! "Big thanks to DJ Catch1 Hopeton Lemon for filming and the awesome dancers for participating," the store noted on Facebook. "And most of all, thanks to everyone that helps keep local business thriving!