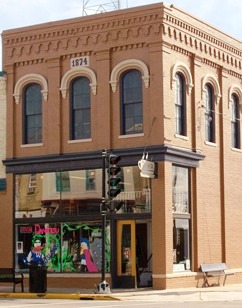 Tribeca GalleryCafe & Bookstore's Watertown location.
Tribeca GalleryCafe & Books, which last month celebrated its 10th anniversary in Watertown, Wis., has signed a lease to open a second store, in the Freshwater Plaza mixed-use development in Milwaukee that's nearing completion, the Milwaukee Business Journal reported.
The 180,000-square-foot development in the Walker's Point neighborhood will also have a Cermak Fresh Market, a women's fashion boutique, a café and other retailers.
Last month, owner Julie Crnkovich noted that "Tribeca's foundation is based on the desire to be very community involved, and not just by having author events and coffee tastings. We offer a wide variety of educational classes covering topics such as gardening, adulting, open discussion on children and teen anxiety, knitting, and living a more green and sustainable life. Communities, such as Watertown, are being enhanced incredibly by energetic and thriving small businesses."