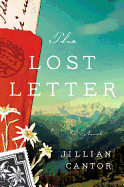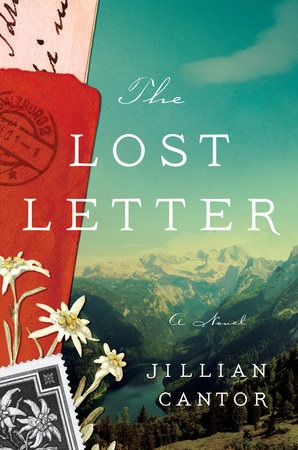 Katie Nelson never shared her father's passion for stamp collecting. But as she tagged along with him on countless Sunday-morning drives around Los Angeles during her childhood, she came to understand the reason for his never-ending quest--or so she thought. Their trips to yard sales, thrift shops and estate sales yielded hundreds of old letters and sheets of yellowed stamps, and Katie always imagined her father, Ted, simply loved the thrill of the hunt. However, when she moves Ted, now widowed, to a memory-care facility, she sorts through his collection and finds an intriguing item: an unsent letter with a highly unusual German stamp from the 1930s. Jillian Cantor (Margot, The Hours Count) unravels the story of the stamp alongside Katie's family history in her third novel, The Lost Letter.

Cantor begins her narrative in 1939, with an unnamed young woman carrying letters through snowy woods in Austria. From there, she shifts back and forth between two eras: that of the Anschluss (Hitler's annexation of Austria) and Katie's quest to find out more about the stamp's provenance in 1980s Los Angeles. The World War II narrative follows the journey of Kristoff, a young artist working as an apprentice to stamp engraver Frederick Faber in the mountain town of Grotsburg. Faber's skill has brought him professional recognition and a comfortable living, but his abilities and his Jewish heritage also attract the unwelcome attention of the Nazis. Meanwhile, in 1989, Katie enlists the help of her grandmother (a German immigrant) and stamp dealer Benjamin Grossman, while also dealing with the dissolution of her marriage and her father's increasing memory problems.

Dual-narrative novels sometimes favor one story over the other, but Cantor balances both her stories with a deft hand. Her protagonists, Katie and Kristoff, are particularly vivid, but her supporting characters, especially Faber's daughters Elena and Miriam, are also complex and engaging. Neither narrative shies away from the horrors of this war: the destruction of Kristallnacht, the deportation of many Jews and the breaking up of families. But both stories offer glimmers of hope, whether through small acts of resistance (some of them involving the postal service) or larger stories of redemption. Cantor's conclusion skillfully draws together two sets of world events--including the fall of the Berlin Wall--and her characters' intertwined personal histories. The Lost Letter is a poignant story of love, sacrifice and the bravery of everyday resistance. --Katie Noah Gibson, blogger at Cakes, Tea and Dreams

Shelf Talker: Jillian Cantor's third novel tells the story of an unusual World War II-era German stamp and its connection to an American family.