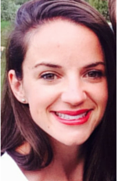 Vanessa Jedrej
Vanessa Jedrej has been appointed global brand manager at Wimpy Kid, Inc., a new position that aims to "accelerate global book and product sales and propel growth" for the Wimpy Kid franchise, created by Jeff Kinney, which now includes films, a musical and animated TV projects in addition to the bestselling books.

Jedrej will start June 12. She was most recently marketing director at Penguin Random House Children's in the U.K., where she headed "marketing thinking, defining global strategies, and brand-building" for such properties as the Very Hungry Caterpillar, Percy Jackson and works by Roald Dahl.

She earlier managed U.K. marketing for Wimpy Kid, during which time she won industry awards including the Book Marketing Society Award for Book Marketing Campaign of the Year 2013 and the Book Marketing Society Award for Best Brand Management for 2012 and 2013.

Jeff Kinney praised Jedrej's "talent, experience, and enthusiasm," adding that she "has long been a champion of the Wimpy Kid series, and I can't think of a more qualified person to help the brand reach higher heights."

Jedrej said, "I am hugely looking forward to taking a driving seat and working with Jeff's publishers around the world to find smart new ways to fuel the global Wimpy Kid fandom and inspire millions more children to switch on to reading because of Jeff's absolutely addictive brand."

The Diary of a Wimpy Kid series, which made its book debut 10 years ago, has more than 180 million copies in print around the world, in 53 languages. The fourth Diary of a Wimpy Kid movie, The Long Haul, opens on May 19, and the 12th book in the series, Diary of a Wimpy Kid: The Getaway, goes on sale worldwide on November 7.