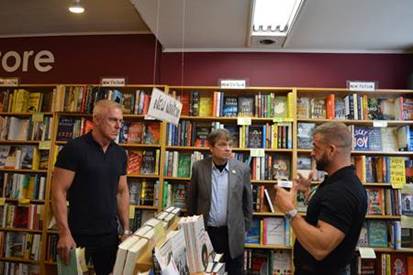 U.S. Representative Mike Quigley (D.-Ill.) visited Unabridged Bookstore in Chicago to mark National Small Business Week. "Small businesses are vital to the fabric of our economy, serving as a fundamental driver for both job creation and community engagement," Quigley said. "Unabridged Bookstore has become an indispensable and impactful staple in the Lakeview neighborhood over the past 36 years, bringing Chicagoans together through a love of literature and community."
During the visit, Quigley and owners Ed Devereux and Patrick Garnett discussed ways small businesses can support their employees while remaining financially stable and competitive in the market. Devereux and Garnett noted, "We have always worked to provide our employees with living wages and exceptional benefits, including full health insurance. We support a national minimum wage of $15/hour and access to affordable health insurance. We currently utilize the ACA marketplace for the only affordable insurance available. Without it, we would struggle to provide health insurance to our employees."
Pictured: Ed Devereux (l.) and Patrick Garnett with Quigley (center).