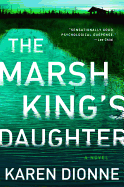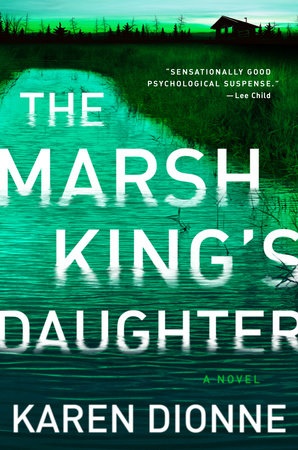 Helena, a wife and mother of two daughters, loves hunting, fishing and being alone in the woods. She credits her father for her knowledge of the flora and fauna of Michigan's Upper Peninsula, plus the survival skills to live off the land, if she should need them; Jacob taught her everything she knows. But she hasn't told her husband, Stephen, anything about her father--a man who has killed two guards and escaped from prison, a man she must find before he does any more harm. Nor has she spoken of her childhood--living in a ramshackle cabin in the marshlands with Jacob and her mother, far from modern society and prying eyes, where Jacob's rules and the rules of nature had to be obeyed, otherwise Helena and her mother faced severe consequences.

The Marsh King's Daughter by Karen Dionne is a psychological thriller of the highest level. Alternating between Helena's viewpoints as a child and as an adult, the story opens with Jacob's escape. Dionne quickly reveals that Jacob kidnapped Helena's mother when she was 14, and forced her to live with him in a primitive setting, where she gave birth to Helena. But Helena knew nothing of this as a child, and assumed their lives were completely normal.

Dionne knows the natural world and what it takes to live off the land; her novel sings with authenticity, teeming with the rich details of the remote wilderness. One can see the ridge where the cabin is set among the swamp maples, beech and alders, taste the dried venison and blueberry pemmican, and hear the whine of the mosquitoes. Whether Jacob and Helena are stalking deer, checking their snare lines or collecting arrowroot tubers, each scene feels lively and healthy as the terrible reason they are living in the marsh is beautifully and carefully unveiled.

As Helena continues to reminisce about her childhood, Dionne inserts subtle hints that life with Jacob was less than ideal, that perhaps he wasn't so wonderful after all. And yet, he is Helena's father, and she loves him for the skills and knowledge he has given her--the very abilities she'll need to track him down now. Dionne has set up an intricate balance between the lush richness and harsh reality of the natural world with the love, respect and genuine fear Helena has for Jacob, creating a taut page turner that haunts the reader long after the last line is read. --Lee E. Cart, freelance writer and book reviewer

Shelf Talker: When a violent survivalist escapes prison, the one person who can track him down is his daughter, who learned everything she knows about living in the marshlands from him.