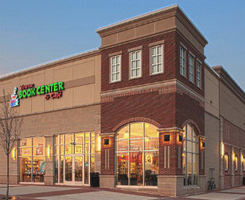 Noting that "there are certain things Amazon, even in its prime, can't replace," the Norristown Times Herald prescribed a visit to Towne Book Center & Café, Collegeville, Pa., where "what you may happen upon, book lovers have long treasured. So have writers' groups, book clubs and many other community groups to which Towne Book Center plays host."
"The owner, P.K. Sindwani, has had the store for 26 years and there is a certain amount stick-with-it-ness he has in terms of making sure there is always a community bookstore in Collegeville," said assistant manager Sarah Danforth, who praised the store's "strong and loyal clientele." She added: "Books are my happy place.... It makes me so happy the sheer number of kids who come in. Every time I see kids coming in it brings a smile to my face."
Norristown native and children's author Jerry Spinelli observed: "Browse a half-acre of books. Read in an easy chair. Snack in the cafe. It's big. It's bright. It's busy. It's... independent. Not a franchise. Not a chain. You won't find one in Indiana or California or the mall down the road. There's only one Towne Book Center, and it's here in Collegeville."