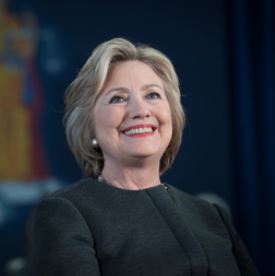 BookExpo will host "An Evening with Hillary Rodham Clinton" at the show's main stage in the Javits Center in New York on Thursday, June 1, from 6-7 p.m. The event will be ticketed, with limited availability, and is open only to registered BookExpo attendees. Seating will be on a first-come, first-served basis.
For anyone who has been in a coma for the past six months, Clinton lost the presidential election last November (although she won the popular vote by almost three million). On election eve, when she was leading in most polls, she had planned to hold a victory celebration at the Javits Center.
Besides being First Lady, Senator from New York and Secretary of State, Clinton wrote the memoirs Hard Choices and Living History and a book on children, It Takes a Village. This September, Simon & Schuster will publish a new book of personal essays by her, and It Takes a Village will be published for the first time as an all-new, full-color picture book by S&S Books for Young Readers.