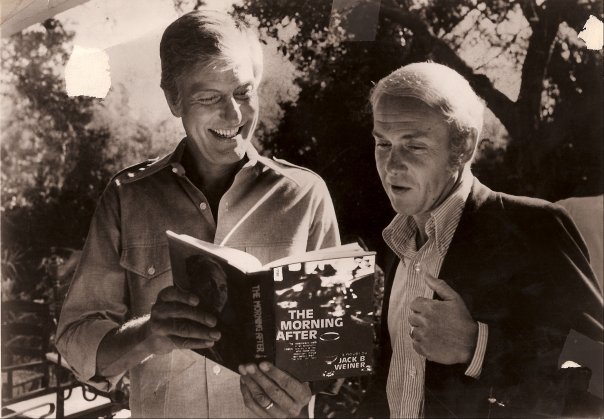 Dick Van Dyke with Jack Weiner during the filming of The Morning After.
Jack B. Weiner, author of The Morning After and a series of highly popular recovery books, died on Monday. He was 88.

Under his own name, Weiner wrote the novel The Morning After, which was published in 1973 by Delacorte and Dell and made into a TV movie starring Dick Van Dyke. He also wrote the nonfiction book Drinking, published by Norton.

In 1989, Weiner was hired to write a book for Compcare called A Day at a Time, which was published anonymously and became one of the seminal books for the 12-step recovery program, selling many millions of copies in various formats and languages around the world. When Hazelden bought Compcare, it was the book that was mentioned as the heart of the Compcare publishing program. It remains in print.

With his wife Sandy, Weiner wrote several other recovery books published by Bantam and Plume under the pseudonym J.S. Dorian: A New Day, At My Best, Tranquility, A Time to Be Free and Above and Beyond, which was recently brought back into print by Central Recovery Press.
Weiner's son, Andy, handles national account and Western indie sales for Abrams. We send him our deepest condolences.