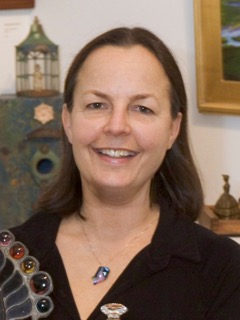 Lauren Wolk is an award-winning poet and artist, and author of the adult novel Those Who Favor Fire and the Newbery Honor-winning middle grade novel Wolf Hollow. Her new middle grade novel, Beyond the Bright Sea (Dutton, May 5, 2017), is about an orphan named Crow who, as an infant, was put out to sea in an old boat and at age 12 begins seeking answers to her identity. Wolk was born in Baltimore, Md., and has lived in California, Rhode Island, Minnesota, Canada and Ohio. She now lives with her family on Cape Cod, Mass.
On your nightstand now:
Literally:
Just started: Salt to the Sea by Ruta Sepetys (my heart already hurts)
Just finished: The Girl of Ink and Stars by Kiran Millwood Hargrave
Bossypants by Tina Fey (Done. Loved.)
Gilead by Marilynne Robinson (waiting)
The Interestings by Meg Wolitzer (waiting)
Wolf Hall by Hilary Mantel (waiting)
The Deptford Trilogy by Robertson Davies (I'm done the first third and am taking a breather.)
(And on my Kindle: Olive Kitteridge by Elizabeth Strout, recently finished. Haunting.)
Favorite book when you were a child:
One book? Are you mad? And the answer depends on what you mean by "child." Regardless, I loved Charlotte's Web, Goodnight Moon, My Father's Dragon, Millions of Cats, the Laura Ingalls Wilder books, A Tree Grows in Brooklyn, the Thornton Burgess Books, all the Robert McCloskey books, James and the Giant Peach and on and on and on. And on.
Your top five authors:
Ack. Really? Can't be done. But here are five of my top thousand authors: William Faulkner, Jane Austen, Toni Morrison, Douglas Adams, Cormac McCarthy, Roald Dahl, E.B. White... hmm, that's more than five. William Styron, C.S. Lewis. All right, all right. Emily Brontë, Ernest Hemingway, Beatrix Potter... and then there are all the poets. You might want to have a seat. This could take a while.
Book you've faked reading:
I don't think I've ever faked reading a book, but I have been reluctant to admit I haven't read certain iconic novels. Like Moby Dick. I read the first half three times. Sorry, but I kept getting stuck at the endless descriptions of whale blubber. I'll try again one of these days. I suppose I should just pick it up again in the middle, but that feels like trying to eat the bottom half of a bowl of soup before the top half.
Book you're an evangelist for:
Cold Mountain by Charles Frazier. Dirt Music by Tim Winton. Life of Pi by Yann Martel. The Curious Incident of the Dog in the Nighttime by Mark Haddon. All the Light We Cannot See by Anthony Doerr. The Story of Ferdinand by Munro Leaf. Island of the Blue Dolphins by Scott O'Dell. To Kill a Mockingbird by Harper Lee. And A Confederacy of Dunces by John Kennedy Toole. Poetry collections by Billy Collins and Mary Oliver. Among others. Oh, did you say "book?" Singular? Ha! That's funny.
Book you've bought for the cover:
I can't think of any. Unless you mean the back cover. Sometimes I'm swayed by a recommendation by a beloved author. But mostly I buy books if friends and family have extolled their virtues.
Book you hid from your parents:
Can't say I ever did that. Which tells you something about my parents.
Book that changed your life:
Charlotte's Web. It was the first book that broke my heart. Though many others have re-broken (and mended) it since. But, among them, Tony Morrison's Beloved stands out. It was the book that truly, honestly obliterated every shred of distance between me and another race or ethnicity. I had agonized over many other books, like Sophie's Choice, but Beloved closed the gap so completely that there was no room for anything between me and Sethe, the protagonist of that masterpiece. Not race. Not time or place. Not even experience, which I could not literally share with her. Except I did. In every important way, I did. And I will always be grateful to Toni Morrison for that gift.
Favorite line from a book:
"If growing up is painful for the Southern Black girl, being aware of her displacement is the rust on the razor that threatens the throat." --from I Know Why the Caged Bird Sings by Maya Angelou.
Five books you'll never part with:
Another tough question, and not just because so many books are dear to me. But the ones I love most are the ones I want other people to read. So I lend them out and sometimes never see them again. Then I buy new copies. I guess I'll never part with the old, fragile books I could never replace. An early edition of Leaves of Grass by Walt Whitman. Book of Hours: poems by Rainer Maria Rilke, translated by my friend Joan Erikson and handmade into a little book. The Collected Poems of Robert Frost. A first edition of A Child's Christmas in Wales by Dylan Thomas. All poets. Huh.
Book you most want to read again for the first time:
The Once and Future King by T.H. White. I so loved reading that book when I was maybe 13 or so. It suited the young romantic I once was. But when I tried to reread it years later, I could not recapture what it had meant to me. Why I had loved it. The book hadn't changed, but I had. To read it again for the first time would be to return to that innocence for a while.