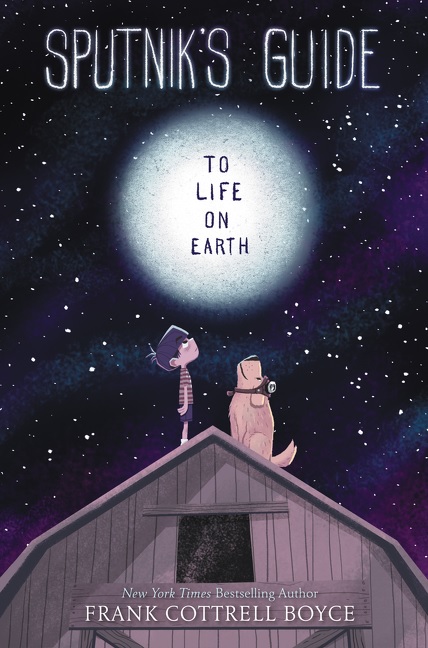 Prez Mellows hasn't talked in months. Ever since his grandfather "got into a wee spot of bother and had to be taken away" from their apartment in Traquair Gardens, Scotland, Prez has been staying at the Children's Temporary Accommodation. When he's placed in a foster home for the summer with the noisy, talkative Blythe family on Stramoddie Farm, Prez appreciates the routine and chores of farm life after years in a gradually increasing caretaking role for his feisty grandfather, whose Alzheimer's has progressed to the point where he is no longer safe on his own--or as a guardian for a young boy. But Prez worries about his grandfather and doesn't know when he'll see him again.

When Prez answers the doorbell one day--realizing only later that Stramoddie doesn't actually have a doorbell--he discovers an odd boy named Sputnik in a kilt and goggles. Sputnik marches into the house and proceeds to charm everyone in the family, who, it turns out, perceive him as a dog. The fact is, he's an alien on a mission to prove to Planetary Clearance--the organization that "get[s] rid of all the useless old stars and planets to make room for new celestial bodies," also known as "pan-galactic decluttering"--that Earth is not only not mythical, but is worth saving. Between them, Prez and Sputnik have to come up with a list of 10 things on the planet worth seeing or doing, "and then Earth can carry on waltzing around its little sun," as Sputnik says. Luckily, Sputnik can read Prez's mind, so there's no need for Prez to start speaking just because he's on a world-saving agenda, and no need for anyone else to discover that Sputnik is not a dog.

Readers who grew up with Daniel Pinkwater's Lizard Music, The Snarkout Boys and the Avocado of Death and other madcap novels will be thrilled to share with a new generation Frank Cottrell Boyce's tremendously funny and poignant Sputnik's Guide to Life on Earth. Boyce (The Astounding Broccoli Boy; Chitty Chitty Bang Bang Flies Again; Framed; Millions) has an imagination that soars, paired with a profound empathy for the inner, sometimes bewildered, life of a child who is rarely given all the information. Prez's heartbreakingly tender relationship with his grandfather provides a steady undercurrent to the wild wave of adventures he and Sputnik surf as they search for Earth's top 10 greatest hits. And with his blustery, reckless guilelessness about planet Earth ("Cows are meat with milk in the middle?") and his insistence at every turn that people never read the instructions properly, Sputnik is an intergalactic protagonist for the ages. Sometimes, apparently, it takes an alien to remind people just where--and what--home really is: "Planets shrink. Suns explode. Planets come and planets go. Home isn't a place on a map. Home isn't the place you come from. It's the place you're heading to. All the times you've ever felt at home--they're just marks on the map, helping you find your way there." --Emilie Coulter, freelance writer and editor

Shelf Talker: On a mission to save Earth from pan-galactic declutterers, an alien named Sputnik and a silent, lonely boy named Prez make a list of the 10 best things about the planet.