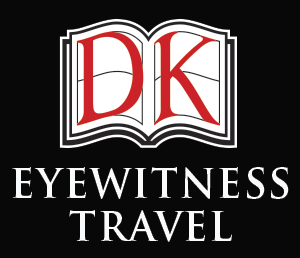 From a visit to Chinatown to a trip to Little Italy, you don't need to venture from the city to feed your wanderlust. Eat and shop your way from India to Peru with our guide to these New York neighborhoods.

Chinatown
Many cities have a Chinatown, but New York's is iconic. Jammed with shoppers haggling in Mandarin at markets, and overflowing with exotic foods, this bustling enclave is a definite "don't miss" for visitors.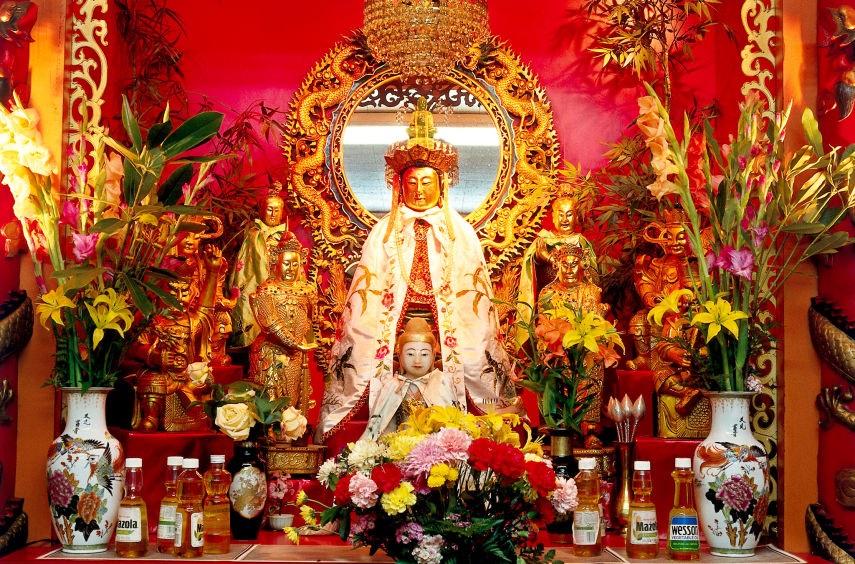 Eastern States Buddhist Temple
photo: Dorling Kindersley Ltd/Michael Moran
Mott Street is the heart of Chinatown, home to restaurants, bakeries, tea shops, herb sellers, grocers, Chinese bookstores and galleries. There are street vendors, too, selling all manner of souvenirs, from slippers and back scratchers to bamboo plants said to bring good luck.

Step out of the crowds into the quiet, incense-perfumed Eastern States Buddhist Temple of America at number 64, where more than 100 golden Buddhas gleam in the candlelight.

Among the many dining choices, Peking Duck House--known for its showy tableside carving of the house specialty--is one that has stood the test of time.

Little Italy
As Chinatown keeps expanding, it has almost overrun the once-thriving Little Italy, but there are still popular old-fashioned Italian restaurants along Mulberry Street.

Some of the old-time food stores also remain at the point where Grand Street intersects Mulberry.

Grand Street is home to the Alleva Dairy--a haven for cheese lovers for nearly a century. Piemonte Home Made Ravioli Company, which vends two dozen varieties of homemade pasta, and DiPalo Dairy, where patrons can watch mozzarella being made fresh every day, are also situated here.

Lower East Side
Once notoriously rundown, the nearby Jewish Lower East Side has since transformed into a hip enclave, with trendy restaurants and boutiques replacing the old bargain stores on Orchard Street.

The beautifully restored Eldridge Street Synagogue, now a museum open to all, is the best place to learn about the thousands of immigrants who came to New York seeking a better life. The synagogue also conducts informative walking tours designed to evoke the old neighborhood.

Koreatown
Right in the heart of midtown you'll find Koreatown, mostly concentrated on one block (along 32nd Street between 5th and 6th Avenues).

Situated within this busy district are two large Korean banks, four hotels, a Korean book and gift store, a bakery, an herb shop, a giant Korean supermarket and more than a dozen Korean BBQ restaurants. Upstairs in many of the buildings you will find lively clubs that are open until the wee hours, some featuring karaoke.

Curry Hill
"Curry Hill," a roughly three-block corridor on Lexington Avenue, is another Manhattan enclave famed for its culinary offerings.

Here there are shops selling saris, exotic statues, incense, teas, herbs and Indian foods galore. Shops such as New Foods of India and Kalustyan's are filled with fragrant basmati rice, chutneys, dried fruits, and herbs and spices.

Many restaurants here are vegetarian and almost all offer bountiful yet inexpensive, lunch buffets.

Jackson Heights
For even more world treats, take the number seven subway to Queens, the train known as the "International Express" because almost every stop has its own global personality.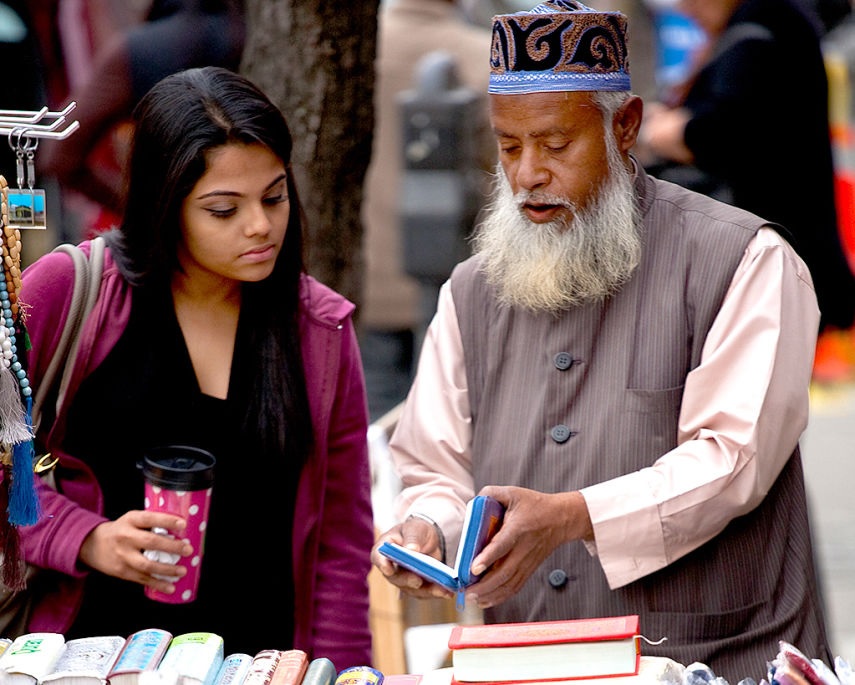 Book stall in Queens
photo: Dorling Kindersley Ltd/Rough Guides/Greg Roden
In Jackson Heights, 74th Street offers a quick trip from Mumbai to Lima. The one long block between the elevated subway station on Roosevelt Avenue and 37th Street is a rich sampling of Indian culture, with shop windows that are a fashion parade of saris and kaftans, and a dozen jewelers laden with 22-carat gold pieces.

Turn the corner on 37th Avenue and Latin America awaits with bakeries and Peruvian, Argentinian, Colombian, and Uruguayan restaurants. Turn another corner back to Roosevelt Avenue and the flavor of this block beneath the elevated tracks is more Mexican.