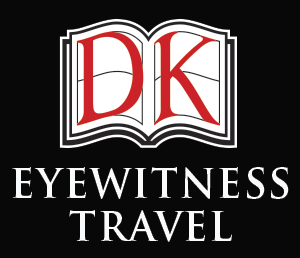 From historic neighborhoods and landmark buildings to green spaces and public promenades, these are the best places to really get to know New York City.

The release of DK Eyewitness Travel Guide to New York City (2017) includes five free, expertly curated audio walking tours.

The Lower East Side
New York City's vivid and varied ethnic flavor is perhaps most tangible on the Lower East Side, where Italian, Chinese, Jewish, and Dominican communities have established neighborhoods since the late 19th century. This makes for a lively area to explore on foot, where you can try a variety of delicacies.

Head to Houston Street for traditional Jewish eateries--here you'll find Yonah Schimmel Knish Bakery, Russ & Daughters and Katz's Delicatessen.

Meander through Little Italy and Nolita, which offer rustic Italian food, charming cafés and traditional salumerias.

Save time to explore Chinatown, a hive of activity--delivery cyclists weave, neon signs flash, and crowds bustle along the sidewalks.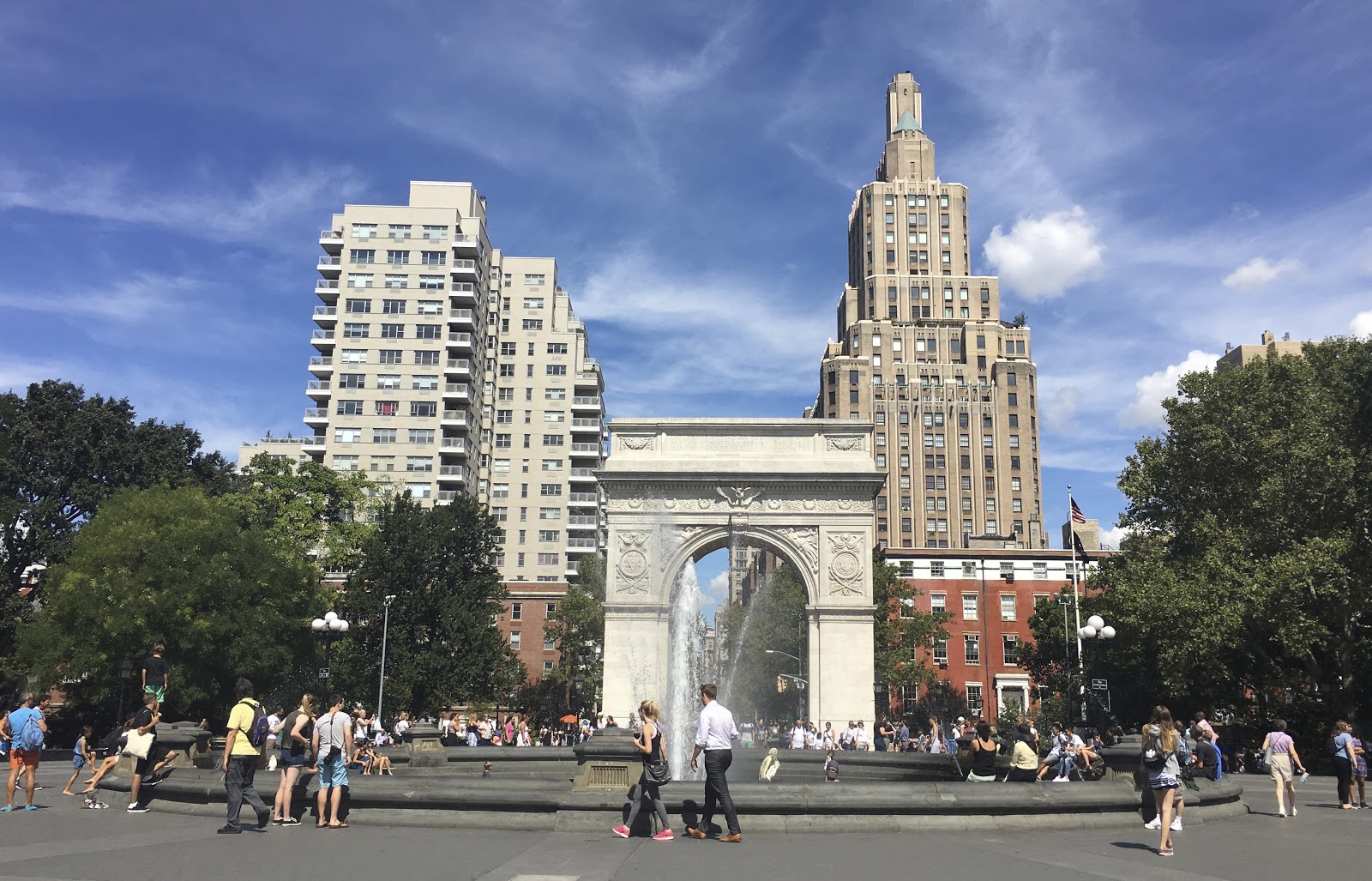 Washington Square Park
photo: Jessica Chun
Greenwich Village and Soho
A walk through Greenwich Village is a walk through New York's artistic legacy. The village's quaint, leafy streets are lined with brownstones, once home to literary figures such as Mark Twain, E.E. Cummings, John Masefield and Edward Albee.

Fans of TV sitcom Friends might recognize the exterior of Monica's apartment on Grove Street (and Bedford Street), while No. 75.5 on Bedford Street is New York's narrowest home, at just 9.5 feet (2.9 meters) wide. Poet Edna St. Vincent lived here for a short time, as did actors John Barrymore and Cary Grant.

No. 18 Washington Square was the setting for Henry James's novel Washington Square. Though a lovely green space today, the park here was once a dueling ground and site for public hangings.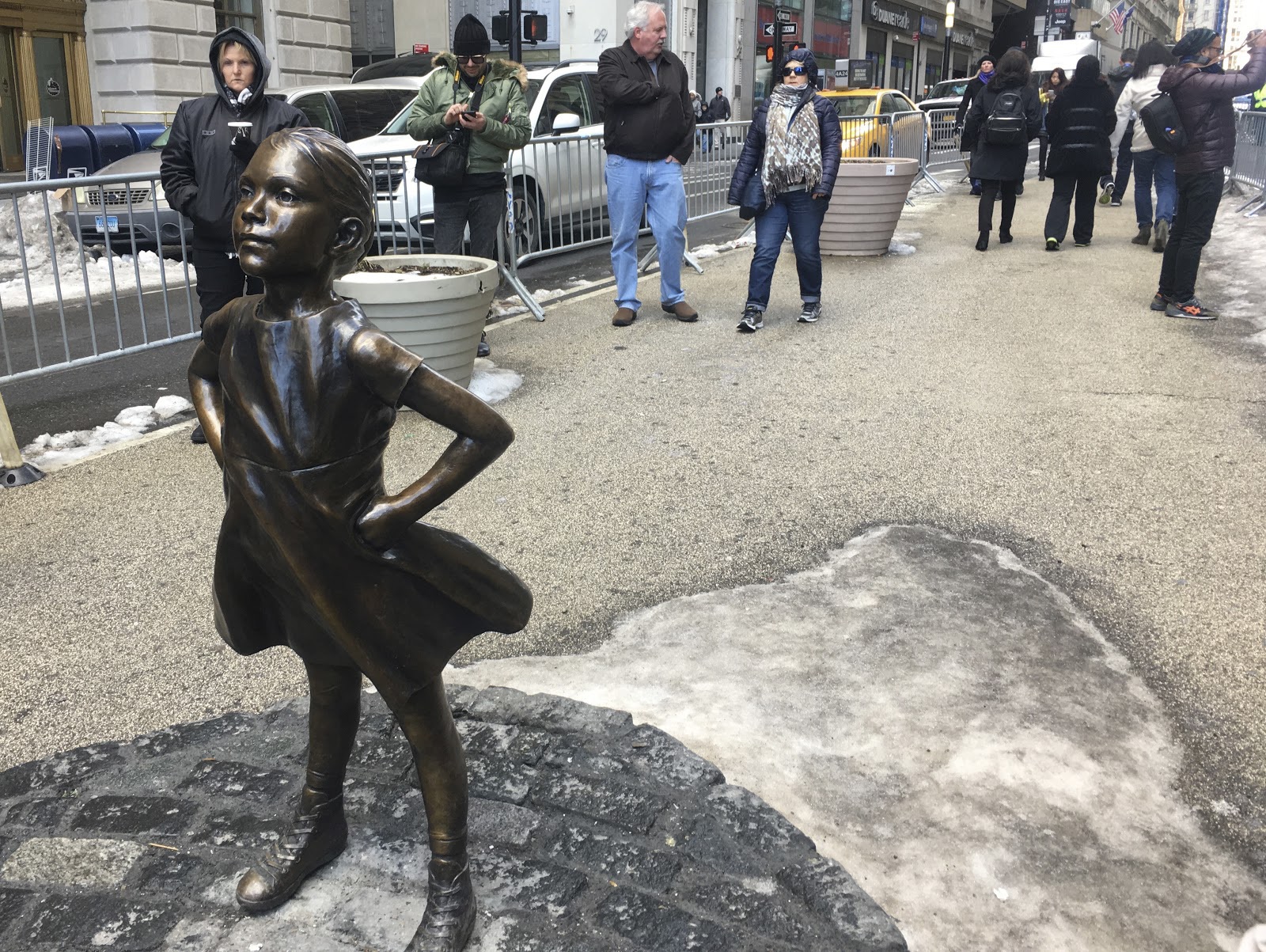 Fearless Girl
photo: Jessica Chun
The Waterfront
New York's formidable history is most present in Lower Manhattan, where Colonial churches and historic monuments stand in the shadows of the city's skyscrapers.

The poignant 9/11 Memorial Museum is one of the most important places to visit. The plaza here is a good area to linger and reflect in, shaded by 400 swamp oak trees.

Farther south in Battery Park, surrounded by statues and monuments, you can admire the views of the harbor. Stroll on to nearby Bowling Green, the city's oldest park, and the Charging Bull and the Fearless Girl.

Finally, South Street Seaport makes for a lovely exploration by foot. Negotiate the cobbled streets of New York's original dockyard, and step onto a historic ship.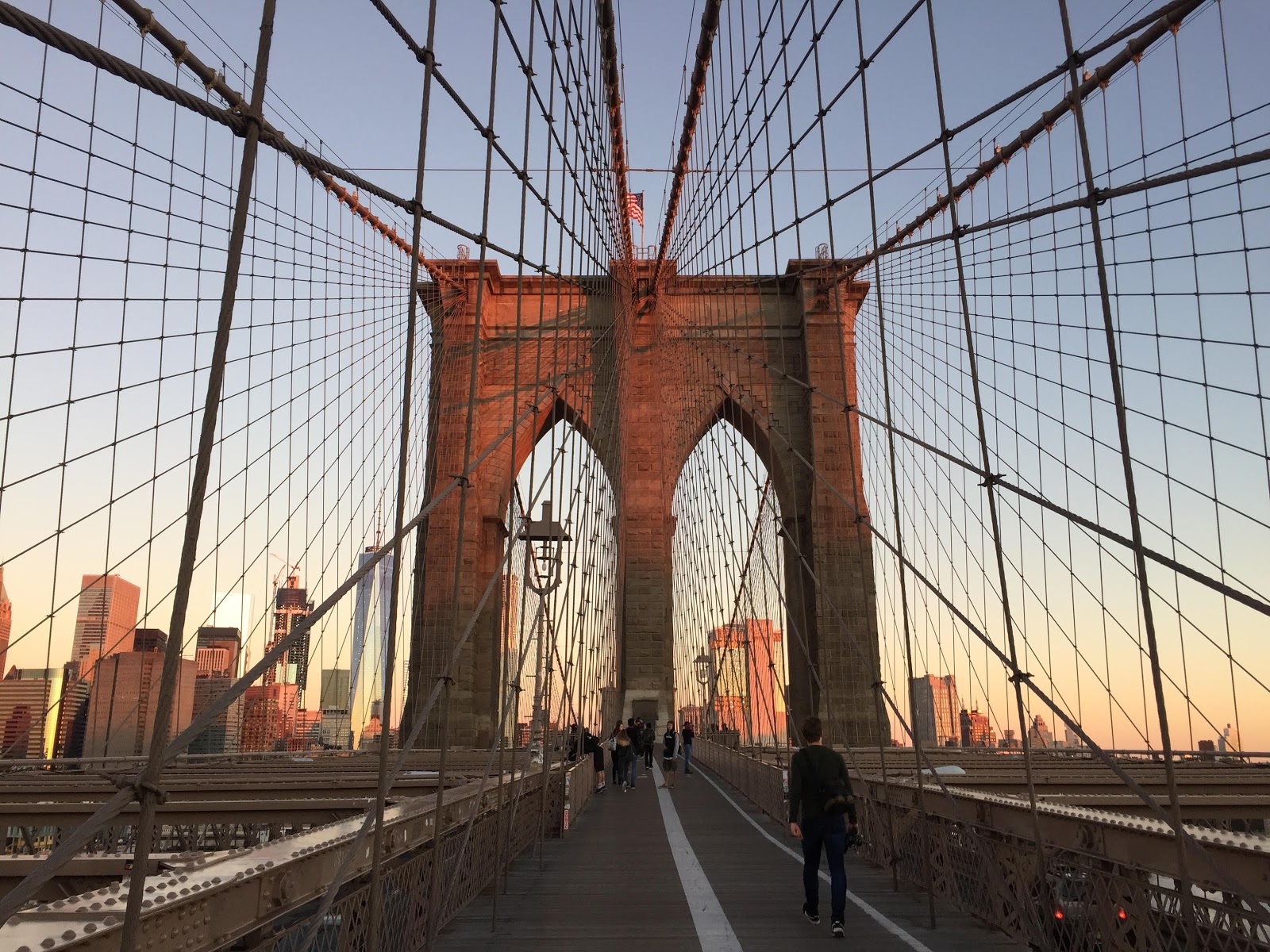 Brooklyn Bridge
photo: Laura Hernandez
Brooklyn
With historic neighborhoods and picturesque parks, converted brick factories and trendy art galleries, Brooklyn is a must-see on foot.

Begin in Manhattan and walk across striking Brooklyn Bridge. This landmark has a promenade for pedestrians, which offers spectacular views of Manhattan--great for getting that perfect photo of the city skyline.

Brooklyn Heights is one of New York's most elegant and historic neighborhoods, and is not to be missed. Stroll through its leafy streets and admire the range of beautiful brownstones, built by the city's elites in the 1920s.

Grab an ice cream at Brooklyn Ice Cream Factory on Fulton Ferry Pier and stroll along Brooklyn Heights Promenade for more fabulous views of Lower Manhattan's skyscrapers and the Statue of Liberty.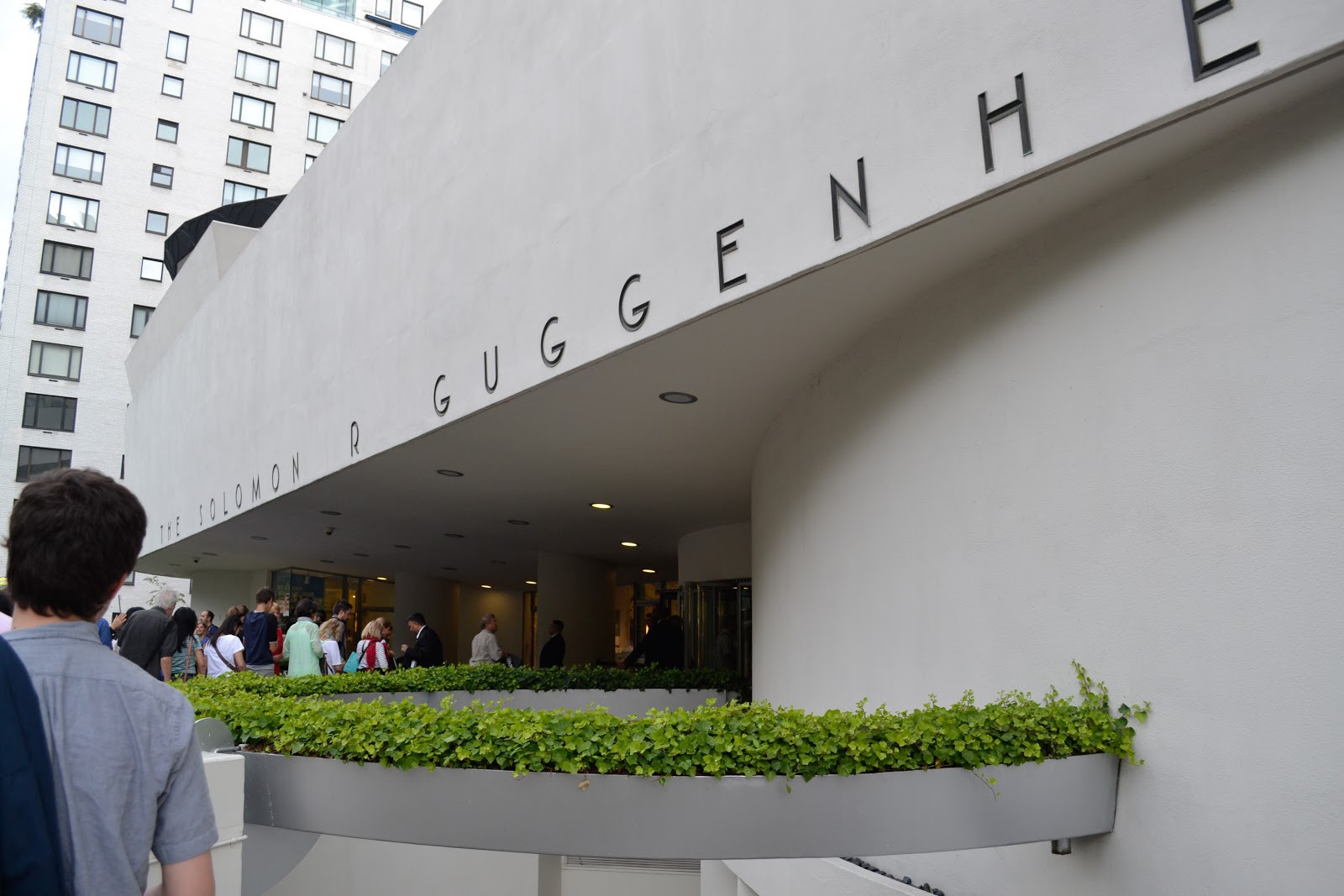 The Guggenheim Museum
photo: Laura Hernandez
The Upper East Side
The Upper East Side is home to some of New York's most famous museums along the aptly named Museum Mile. Wander around the impressive Frick Collection, marvel at the artworks housed in the magnificent Metropolitan Museum of Art, and traverse the famous atrium of the Guggenheim.

A trip to New York isn't complete without a visit to Central Park. This calm refuge, which stretches for 2.5 miles (4 km) from 59th St to 110th St, will take days to explore fully. Take time to walk around Conservatory Water, climb the larger-than-life Hans Christian Andersen statue and visit Central Park Zoo.

Chelsea and the Garment District
Start at Chelsea Market for a bite to eat, before heading for the High Line. This disused, elevated railway has been transformed into a stunning, public promenade-cum-park, and offers beautiful green spaces and great views.

It might be just outside the Garment District, but ascending the Empire State Building is a must. Climb its 1,576 steps to the 86th-floor observatory for spectacular 360-degree views of the city.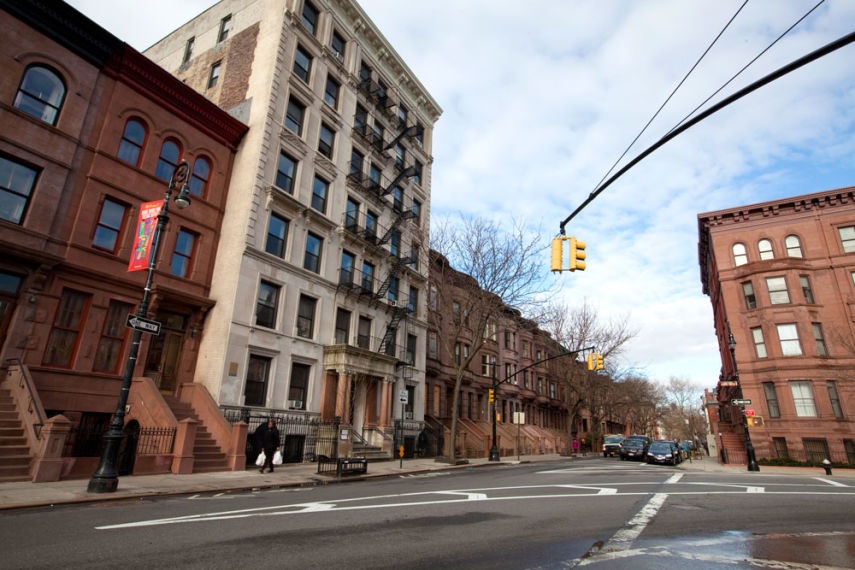 Mt. Morris Historic District, Harlem
photo: Dorling Kindersley Ltd/Steven Greaves
Harlem
Harlem has been at the heart of African-American culture since the 1920s, when jazz musicians, poets, and activists came together during the Harlem Renaissance. Today, the neighborhood offers fabulous West African restaurants, a vibrant jazz scene, and some of the city's prettiest blocks.

Meander around Hamilton Heights Historic District, with its charming townhouses, once home to jazz musicians including Duke Ellington, Count Basie, and Cab Calloway, and visit the picturesque Columbia University campus, where college students mingle on the grounds between classes. End the day with a well-earned meal at Sylvia's, Harlem's best-known soul food restaurant.