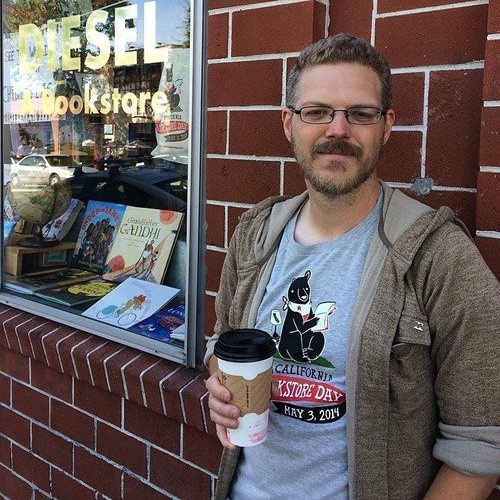 Brad Johnson
Brad Johnson, who hopes to take over ownership of the DIESEL bookstore in Oakland, Calif., has raised $150,000, mostly through a community lending program, and now aims to raise another $50,000 via an IndieGoGo campaign toward his goal of $200,000. Just begun, the "Forty Days & Forty Nights Challenge" has already raised $3,425.
Last November, Johnson and DIESEL owners Alison Reid and John Evans (who also own and will continue to own DIESEL stores in Larkspur and Brentwood) announced that they hoped Johnson, manager of the Oakland DIESEL store, would be able to take ownership of the store and rename it East Bay Booksellers once he had adequate funding for inventory and capitalization. If the transition plan doesn't work, the store will continue to operate as DIESEL.
In an e-mail to friends and customers last week, Johnson said that the community lending drive "was nothing short of a delight" and that he raised the $150,000 in "the matter of two short months." Unexpectedly, he had trouble with things he thought would be "seamless.... As it turns out, lease language and lawyers all take time!" But that's sorted out, he said, and the IndieGoGo campaign is the last piece of the puzzle, allowing people who didn't want to invest officially in the store to donate smaller amounts.