Jeffrey Tambor, actor, author (Are You Anybody?: A Memoir) and an investor in Skylight Books, Los Angeles, Calif. is this week's "By the Book" guest in the New York Times Sunday Book Review. Our favorite from the q&a: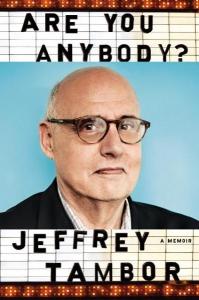 As part owner of a bookstore in Los Angeles, what's your favorite part of the book business? Your least favorite? Which section of the bookstore do you frequent most often?
Full disclosure: I now live in New York, so I haven't been able to visit the store in person as much as I would like--but I still have "bragging rights." Owning a bookstore was right up there with acting in life goals, but other than swaggering around the store, I'm not much use. The manager and staff are devoted and steeped in reading and literature. I love standing in the aisles and watching people browse, especially the younger crowd--the millennials, Xers and Yers are off their equipment and opting for paper, I'm here to tell you! And my very favorite is the Skylight readings, where writers come and share from their books. (Did I mention that I will be doing this in May--can you say "bucket list"?) We have had authors from all fields--and one can even hear these on iTunes. But the power of an author standing at a podium opening the pages of their book and reading to a live audience in a bookstore--very, very powerful. Yep, it's theater. Different venues--same goal--as E. M. Forster wrote: 'Connect!... Only connect.' "
By the way, Tambor will make an appearance at Skylight tomorrow evening, at 7:30 p.m., to launch his book. See Tambor's hilarious book trailer, in which his children interview him talk show-style.