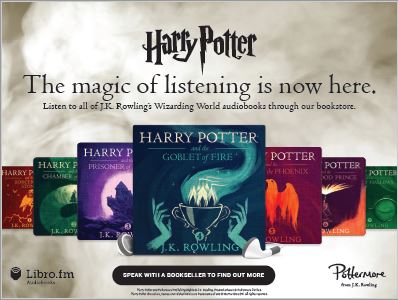 Libro.fm has partnered with Pottermore to offer eight of J.K. Rowling's Wizarding World digital audiobooks through independent bookstores nationwide. The titles include all seven novels in the Harry Potter series, as well as Fantastic Beasts and Where to Find Them.
"Harry Potter titles have always held a special place within independent bookstores--on the shelves and in the hearts and minds of booksellers. Now in digital audio, current and future generations of Wizarding World fans can discover and rediscover these stories through their beloved local bookstores," said Stephanie Ballien, Libro.fm director of marketing.
Margie Scott Tucker of Books Inc., which has 11 locations in the San Francisco Bay area, said, "Books Inc. is thrilled to be able to offer J.K. Rowling audiobooks to the loyal customers of our partner stores. With summer approaching, these audiobooks will be perfect for family road trips or long plane rides, and our customers will love being able to immerse themselves in the timeless stories and magical world that J.K. Rowling has created."
American Booksellers Association CEO Oren Teicher noted that "for two decades, the Harry Potter titles have held a singular spot on the shelves of independent bookstores, as young readers--who are now themselves parents of young readers--discovered the wonders of an amazing story and great writing. Indie booksellers look forward to this new opportunity to share J.K. Rowling's remarkable series in digital audio."