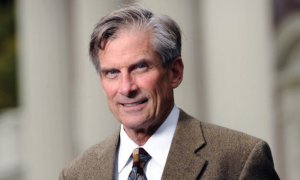 William D. Adams
photo: Fred Field, courtesy Colby College
With the White House's proposed budget for fiscal year 2018 calling for the "orderly closure" of the National Endowment for the Humanities, William D. Adams resigned on Tuesday as chairman of the NEH. In a statement, Adams noted the positive resolution of the agency's funding for the remainder of fiscal year 2017 [the agency received a slight boost in its budget thanks to efforts in Congress] and the beginning of the administrative transition at NEH. "We're encouraged that Congress and the President increased our funding for the current year and that the White House has initiated the process of bringing new political appointees to the agency."
Adams had been nominated by President Obama in 2014 after having been president of Colby College for 14 years.
President Trump's budget also calls for the closure of the National Endowment for the Arts.