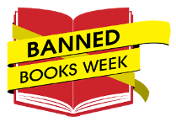 Index on Censorship, a nonprofit freedom of expression organization based in London, has joined the Banned Books Week Coalition as its first international member. Index plans to host a number of events in the U.K.--as well as participating in events in the U.S.--during this year's Banned Books Week, which will take place September 24-30.
"Index is excited to be joining the coalition as the first non-U.S. member," said CEO Jodie Ginsberg. "We have been publishing work by censored writers from around the world for 45 years and--given all that is happening on the global political stage--it feels more important than ever to be highlighting censorship and demonstrating just what it means when books are banned."
Charles Brownstein, chair of the Banned Books Week Coalition and executive director of the Comic Book Legal Defense Fund, said: "We are very excited to have the Index on Censorship join the coalition. Their work not only aligns with our mission, but will bring an international perspective and awareness to our annual celebration of the freedom to read."
Other members of the coalition include American Booksellers for Free Expression, American Society of Journalists and Authors, Association of American Publishers, Association of American University Presses, Authors' Guild, Dramatist Legal Defense Fund, Freedom to Read Foundation, National Coalition Against Censorship, National Council of Teachers of English, People for the American Way, PEN America and Project Censored.