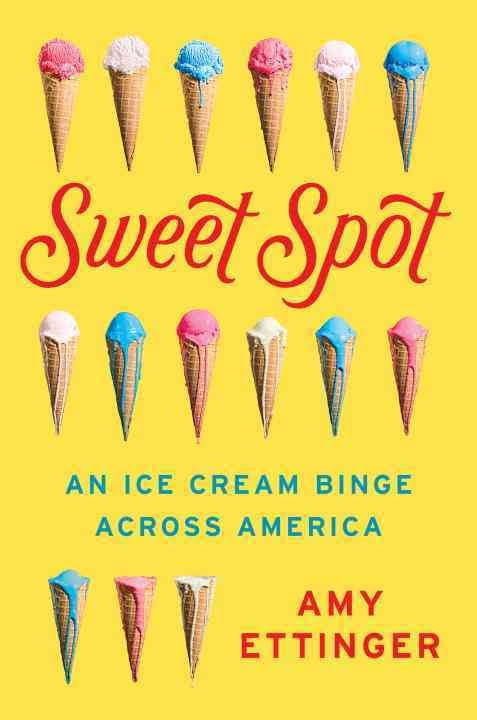 Journalist Amy Ettinger dishes up ice cream in Sweet Spot, an adventurous, thoroughly researched exploration into the U.S. love affair with frozen sweet treats. Ettinger is a self-proclaimed ice cream connoisseur turned ice cream snob and addict: "Ice cream is more like a drug than any other food... the more ice cream you eat, the more you have to eat it to regain that 'high.' " Ettinger consumes ice cream almost daily and stocks between $15 and $30 worth in her freezer at all times. She also "likes" numerous ice cream parlors on Facebook so she can track new, exciting flavors. Ettinger believes her taste buds and brain were "forever altered by the introduction of 'gourmet' Ben & Jerry's flavors in the 1980s." This inspired her coast-to-coast quest to learn everything she could about ice cream. Her richly entertaining, easy-to-read narrative is infused with history, recipes and the science behind what makes for delicious--and sometimes not-so-delicious--flavors. She also looks at innovators and imitators, and how the ice cream business continues to evolve.

Sprinkled among stories from Ettinger's life and travels are anecdotes about Americana, starting with the Founding Fathers. George Washington invested in ice cream annually, allotting a $200 allowance in 1790, which equates to a whopping $3,000 today! Jefferson is credited for writing the first American ice cream recipe, a French-inspired vanilla, and he even built an icehouse at his Monticello estate. In 1861, Bassetts in Philadelphia launched the first ice cream company. But William Breyer, delivering his ice cream by horse-drawn wagon in Philly, ultimately overpowered the popularity of Bassetts, making Breyers a bestseller for generations. All this paved the way for a host of future ice cream makers, both independents and mass producers: Edy's, Baskin-Robbins, Häagen-Dazs, Tom Carvel and his often ruthless business practices, Mister Softee, Good Humor and their once-ubiquitous trucks, and a host of local, quirky artisans, some of whom create offbeat flavors like sushi, French toast, oyster and foie gras.

The philosophy and wisdom of past and present ice cream makers--along with segues into soda shops and fountains, sundaes and floats, ice cream sandwiches, cones, frozen yogurt and the gelato craze--are swirled into Ettinger's tasty quest. What rises to the fore, however, are sections devoted to Ettinger working alongside fellow ice cream aficionados and business people--and her enrolling in "the world's most famous ice cream making class" at Penn State. There, she learned the fascinating ins and outs of pasteurization, flavoring, potential hazards, short cuts and tricks of the trade--both good and bad. Ettinger piles on double and triple scoops of fun information that offers literary deliciousness for ice cream lovers everywhere. --Kathleen Gerard, blogger at Reading Between the Lines.

Shelf Talker: A passionate ice cream lover explores the history, business, science and sheer deliciousness of American ice cream culture.