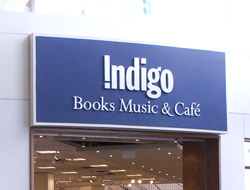 In the fiscal year ended April 1, total revenue at Indigo Books & Music rose 2.6%, to $1.02 billion (about US$755 million), and net earnings were $20.9 million (about US$15.5 million) compared to $28.6 million (US$21.2 million) last year.

Total comparable sales, including both online sales and comparable store sales, increased 4.1%.

The company said that sales grew primarily because of "continued double-digit growth in general merchandise, most notably lifestyle products and toys. Book sales remained solid as sales for Harry Potter and the Cursed Child partially offset the declining trend for adult colouring books."

Indigo said the fall in net earnings "is explained by a primarily non cash income tax expense of $8.1 million [US$6 million] in the current period compared to an income tax recovery of $6.5 million [US$4.8 million] last year. Indigo ended the year in a very strong financial position with cash and short-term investment balance of $230 million [US$170.1 million] and no debt."

CEO Heather Reisman commented, "We are delighted to report our highest revenues ever in what was a tough year for many retailers. We believe this is a direct result of Indigo's efforts to innovate and to provide our customers with exceptional products and an inspiring shopping experience both in our stores and online. Our focus, as always, is to continue to improve; and the Indigo team remains energized to keep up the momentum of the last few years."

In other news, Indigo has appointed Hugues Simard executive v-p and CFO. He was formerly senior v-p and CFO of Videotron.