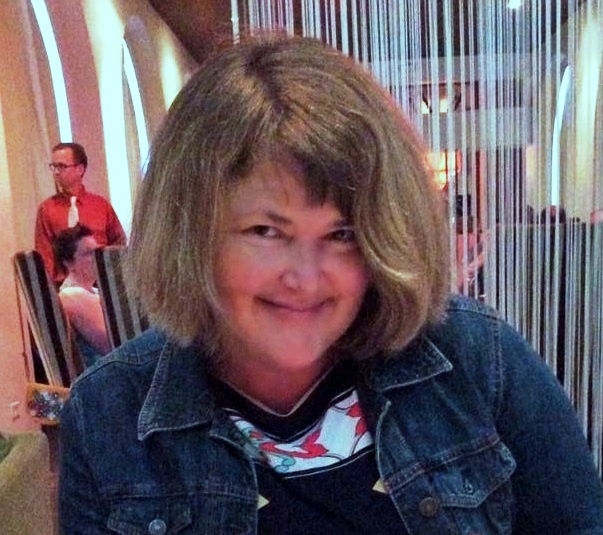 Such sad news as BookExpo started yesterday: Carla Gray, executive marketing director at Houghton Mifflin Harcourt and beloved by so many in the industry, died unexpectedly on Tuesday. She was 52.
On social media, many of her friends and colleagues posted heartfelt, sad and funny tributes. And last night, one of Carla's dear friends, Craig Popelars, organized an impromptu party in her memory at the Cowgirl Hall of Fame, site of many a Hellfire party that he, Carla, Patty Berg and Ruth Liebmann had hosted during past BEAs. Last night's reunion featured Carla Gray Gin Gimlets and many hugs, tears and laughs. Craig said in part, "I hope we can honor her not just tonight but in everything that we do while we're in this business."
Patty Berg said Carla "would bring us together and there was always something that we would laugh at... it really is a testament to why we're in this business because we get to hang out with people who love the same things that we do, whether it's about books or music or cocktails or horses or whatever.... Carla is with everybody."
She grew up in Washington, Conn., went to Trinity College and began her career in publishing as a bookseller at several stores in New England, including the Little Book Room and Reading International. Some 20 years ago, she joined Houghton Mifflin as a telephone sales rep, eventually becoming executive director of marketing. Throughout her career at HMH, Carla was known and loved for the passion, creativity and enthusiasm she brought to her work, as well as for her ability to bring people together wherever she went.
Bruce Nichols, senior v-p and publisher of HMH, reflected: "The world has lost a great champion of the written word, a tireless advocate for authors, and a dear friend of booksellers across the country. HMH has lost a beloved colleague of 20 years. We will miss Carla every day."
Marilyn Dahl, editor emerita of Shelf Awareness for Readers, remembered: "If the book world had a flag, it would be flying half-mast today.
"Professionally, Carla was tops--she was a tireless and creative promoter, a great mentor, and a discerning reader. If Carla said 'Read it!' I did, immediately. Personally, Carla was... well, make a list of everything you'd want in a friend. She was exuberant, witty, silly, loyal, passionate, warm, welcoming and very cool. She could tell a story. It's not an exaggeration to say she could make any day a holiday (especially Derby Day) and any event a celebration.
"Have a cocktail, eat some raw oysters, play a horse and salute a wonderful woman. Godspeed, Carla."
Steve Fischer, executive director of the New England Independent Booksellers Association, noted that Carla served on NEIBA's Advisory Council from 2012-2014 and said, "She brought to NEIBA the same professional enthusiasm, book smarts and humor that she brought to the entire bookselling community. We're going to miss her so much, especially in New England."
Gregory Henry, who worked with Carla at HMH from 2008 to 2009, wrote: "I'm 2,000 miles away from her in my new office, sobbing. I'm in L.A., and I feel so far away from her and the people I know who love her on the East Coast. I guess this is one of the great things about publishing--that you'll inevitably meet people like Carla, who'll welcome you, entertain you, make you feel seen and sane. My love to all who knew her."

Taryn Roeder wrote: "I've known her for 13 years, and have shared an office wall with her for probably 11 of those. So much damn time together talking books, work, family, friends, life--but not nearly enough time. How can it be that just last week we were planning our fun in NYC for tonight? Carla was vibrant and excited for the weekend and thrilled for her plans of the week. With her typical, generous spirit, she invited me to go out: she always wanted to share the good things, whether they were friends or stories or cocktails. Over the years she introduced me to so much of and so many in the industry. She loved books and she loved book people and she loved it all fiercely and we all loved her back."
And Eugenia Pakalik expressed how many felt when she said about Carla, "I miss you and I am a much better human for having had you in my life."