The American Booksellers Association offered much good news at its annual meeting yesterday. While recognizing the many challenges facing independent booksellers--including new minimum wage laws, rising commercial rents, the expansion of Amazon--CEO Oren Teicher noted that indie book sales in 2016 rose almost 5% and, as of last month, they are up "slightly" from last year's gains. Through last year, the indie channel had a compound annual sales growth of more than 6% over a five-year period. These numbers, he continued, are "heartening" at a time when so many general retailers have suffered and closed.

The number of ABA "regular member companies" has dropped to 1,757, down by 18 from 2016, the first drop in seven years, but the number of bookstore locations rose by 10, to 2,321, because of established stores opening branches, meaning that for the eighth year in a row the number of indie bookstores in the country increased. Provisional memberships--individuals who are working to open bookstores--rose to 141 from 108.

Other positive signs: established stores for sale have found buyers, and "especially heartening," a new generation of booksellers continues to enter the profession. Those younger booksellers have been at the forefront of efforts to make the bookselling world and the association more diverse and inclusive, which led to major steps by the ABA earlier this year (including the appointment of five new Booksellers Advisory Council members and the creation of a diversity task force). The ABA is also working to encourage the opening of more indie bookstores in underserved communities.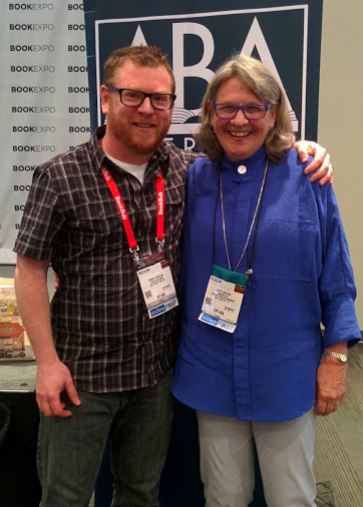 New ABA president Robert Sindelar and outgoing president Betsy Burton
The localism movement has helped indie bookselling, Teicher said, and is something that the association has strongly supported, working with other indie retailers on local, state and national levels, and something that it will continue to do.

The association remains committed, too, to providing "the education, professional development, and business services" that have helped and continue to help bookstores to succeed. In the past year, these efforts have included expanded education programming, with a focus on bookstore financials, part of which was an in-depth financial workshop presented twice in the fall and again at the Winter Institute. The ABA is improving its educational webinars and podcasts as well.

The association--together with ABFE--also remains devoted to supporting free speech and the First Amendment, all the more important "in the current political environment."

General business challenges include, through the end of 2016, retail rent increases on average of 4% annually over the last three years. But probably most important is Amazon, which continues aggressively to seek "industry and economic dominance."

Teicher commended again the ground-breaking study on Amazon by Stacy Mitchell and her colleagues at the Institute for Local Self-Reliance that shows how the e-behemoth intends to expand "its control into almost every aspect of our lives."

With a bit of awe--"I never thought we'd boast about Walmart earnings"--Teicher noted that Amazon has surpassed Walmart in market capitalization despite earning just $1 billion in profits over five years compared to Walmart's $80 billion. He noted predictions that within five years, 20% of the country's $3.6 trillion retail market will have shifted online, and "Amazon is on track to capture almost two-thirds of that share."

He recalled some victories in the fight against Amazon, particularly that, as of April 1, it is now collecting sales tax in the 45 states that have such a tax. He attributed that change in part to "your influence" and to the ABA's work with a broad coalition of retailers. And the fight continues, with a focus on getting elected officials moving toward "innovative 21st century solutions about antitrust enforcement, for example, and true consumer protection."

In a particularly important area, Teicher remembered that five years ago at the ABA's annual meeting, he called on publishers to rethink traditional book world business policies. Bolstered by regular conversations with publishers, that call has resulted in such things as rapid replenishment programs and simplified co-op. Publishers have helped the association launch Indies First and Indies Introduce, programs that "recognize the unique role the indie channel plays in discovery." The association is working, too, on testing a more efficient, centralized, online invoice-statement-payment system, like Batch in the U.K.

In her report, outgoing president Betsy Burton of the King's English Bookshop, Salt Lake City, Utah, recounted the association's recent proposals to publishers to create better backlist programs that would help booksellers give backlist "the attention we give to frontlist and sell way more"--both in indie stores and, as often happens, in a kind of ripple effect, in other markets. Key parts of the proposals include higher discounts and booksellers being able to choose which titles to include. She said all listened, and some have already introduced improved backlist programs--and the conversations continue.

Teicher said that this kind of work, as well as efforts with authors, was essential to "create a sustainable business model that supports a diverse network of locally owned bricks-and-mortar bookstores." He called on members to work with it to find solutions, saying, "We can't solve every problem, but by working together, as we have demonstrated so often in the past, we can insure that indie bookstores don't just survive, but they thrive."

Teicher concluded: "I've said it before, but after more than 25 years working on your behalf, I'm more confident than ever, as I stand here today, that the best years of independent bookselling lie in front of us." --John Mutter