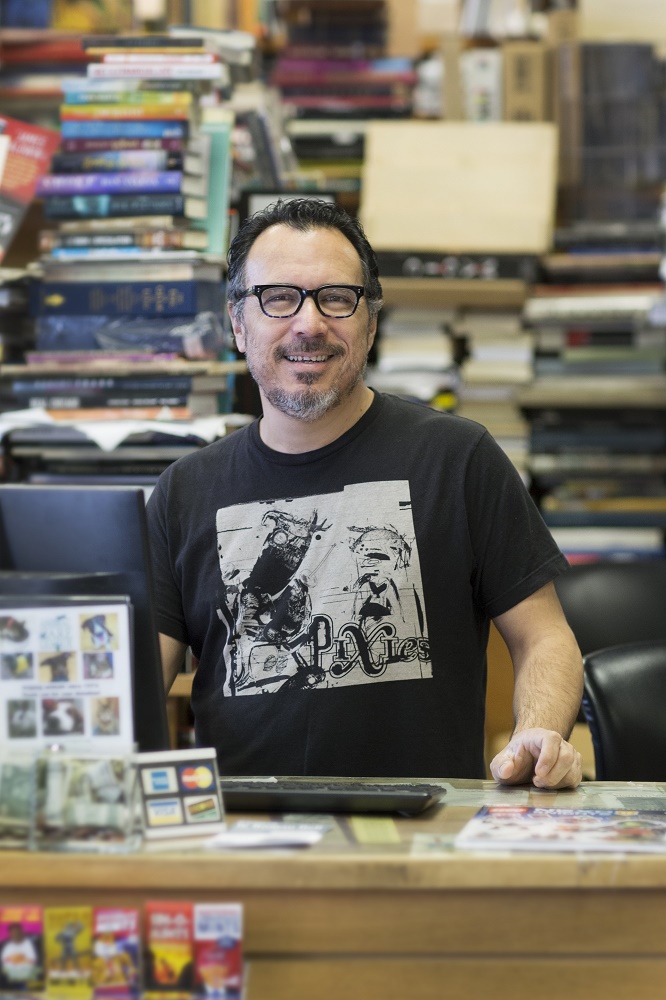 photo: Heidi Jo Brady
If you know the name of a Chicago bookstore, it's highly likely that Book Table manager Javier Ramirez has worked there. One of the industry's most voracious readers, he consumes everything: children's books, serious nonfiction and all literature in between (with a soft spot for horror). Since 2011, he has co-hosted Publishing Cocktails, the semiannual gatherings of Chicago's literati, pairing libations with bookstore cash mobs, author appearances and book swaps--where he is always easy to spot in his signature band T-shirts, handing out hugs, laughter and book/film/music recommendations. Profiled by the Chicago Tribune, recipient of a James Patterson holiday bonus, one of Newcity's Lit 50 2015 and with more than a handful of well-known novels by notable authors featuring his name listed in the acknowledgments, Ramirez is the definition of a "literary citizen."

On your nightstand now:

Oh man. So much good stuff. Stephen Florida by Gabe Habash (American Psycho meets small Midwestern college wrestling), Velvet by Ed Brubaker (thrilling '70s super-secret spy graphic novel), Borne by Jeff VanderMeer (not smart enough to describe this sci-fi gem), Little Sister by Barbara Gowdy (I'd giddily read anything by her, and have), Eat Only When You're Hungry by Lindsay Hunter (local favorite--when I received this in the mail it took all my willpower to resist reading it at the counter under the watchful stare of a paying customer).

Your top five authors:

While in Minneapolis for Winter Institute, I had the opportunity to have a drink with the inimitable Nanci McCloskey, director of marketing and rights for Tin House, who got me talking about my favorite writers. Turns out we had a few in common, which led to spirited conversation and seeds sown for a lifelong friendship. In no particular order: Katherine Dunn, Barbara Gowdy, A.M. Homes, Kelly Link and Claire Fuller.

Book you've faked reading:

The Sparrow by Mary Doria Russell. All my bookseller friends read and raved about it when it first came out. Through the many conversations that followed I was able to cobble together the gist of the plot and meaning, enough at least to chime in.

Finally read it a few years ago and cannot stop recommending it.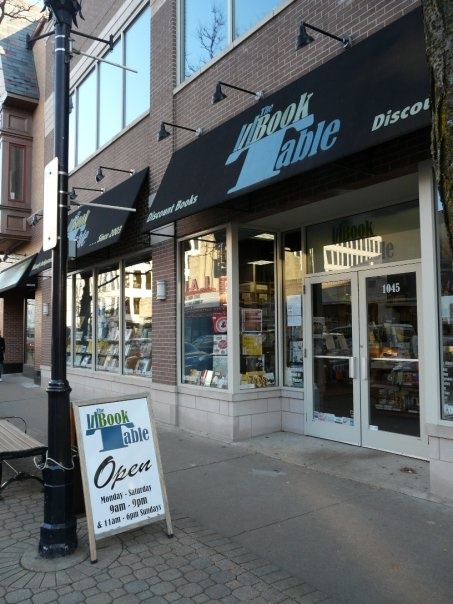 Book you're an evangelist for:

Right now it's Still Life with Tornado by A.S. King. I've read my fair share of YA novels, but King manages to capture the human condition we refer to as "being a teenager" with so little effort I found myself utterly floored. Exploring the way that memory affects grief, and vice versa, was second in genius only to how King manifests said memory/grief in the mind of 16-year-old Sarah. King weaves family history, art and what our past, present and the future can tell us about ourselves into a perfect storm of a book.

Book you've bought for the cover:

Bats of the Republic by Zach Dodson (he's a book designer and publisher by trade, co-founding Featherproof Books), a singular and beautiful reading experience that cannot be replicated electronically. And on pure intrigue, Tampa by Alissa Nutting in trade paperback.

Book that changed your life:

The triumvirate of Geek Love by Katherine Dunn, Mister Sandman by Barbara Gowdy and End of Alice by A.M. Homes really shaped me as a reader in my early days as a bookseller. Having not been brought up in a household full of books, I was a bit of a late bloomer as a reader. I devoured these three one year in the mid '90s, which paved my way to the dark side. Haven't looked back since.

Favorite line from a book:

"For months they'd run their fingers around the hem of their affection without once acknowledging the fabric." --A Constellation of Vital Phenomena by Anthony Marra

Five books you'll never part with:

Post Office by Charles Bukowski (signed British first edition with hand-drawn caricature of Bukowski by the author)

Geek Love by Katherine Dunn (signed first edition of my favorite novel of all time)

Like a Rolling Stone: Bob Dylan at the Crossroads by Greil Marcus (When my beautiful son Diego Joseph was born 12 years ago, I made a promise to him that whenever the opportunity arose to have a book signed, whether it be an event I hosted or author dinner I attended, I would have that book inscribed to him. This was the first in what has become a varied and extensive collection he will one day appreciate).

New York Girls by Richard Kern (there's a photo of Lydia Lunch with the accompanying inscription to my then six-year-old son Diego: "Soon enough you'll be man enough"--his mother was not amused).

Book you most want to read again for the first time:

Seveneves by Neal Stephenson. It is one of my favorite novels of recent memory, and easily his most accessible. I list it here mostly because the first two-thirds are pure genius, especially the last thrilling, hopeful sentences to what basically amounts to the end of the first act. Knowing what I know now, I would have stopped there and read the last third at some point. Maybe.