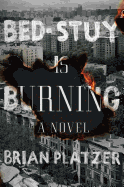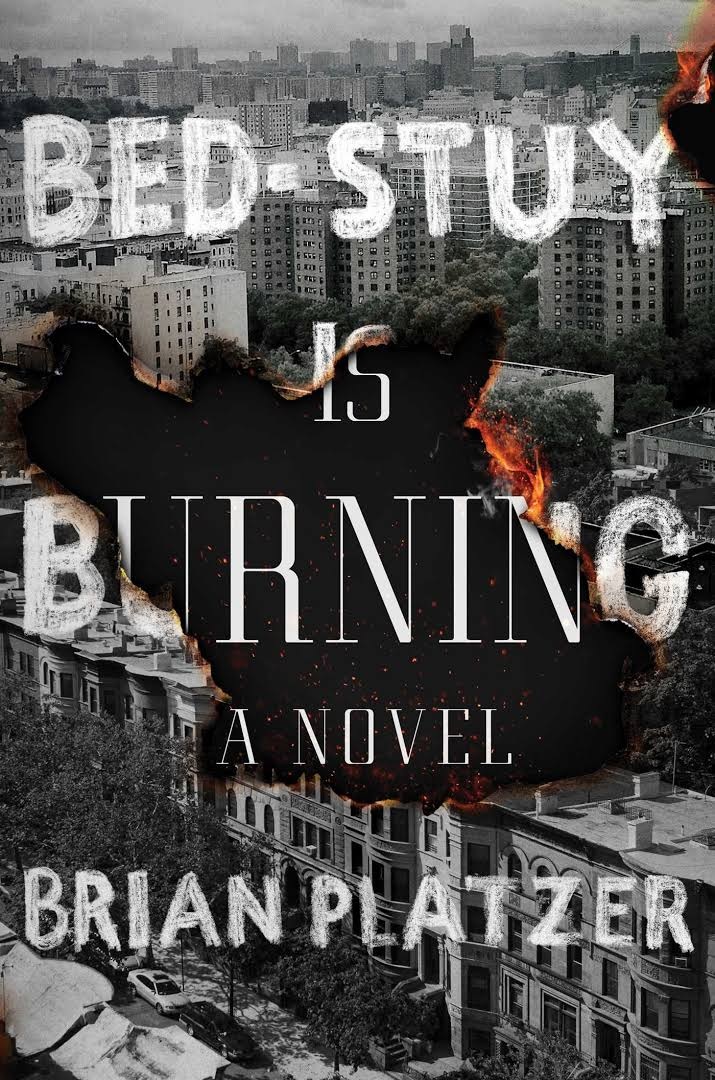 In Brian Platzer's first novel, one of Brooklyn's last gentrifying neighborhoods is having a bad day. Racially charged Bedford-Stuyvesant's history of shoot-first policing has the locals on edge. Their anger builds when a cop opens fire on an unarmed 12-year-old. The fuse is finally lit when police begin rounding up teens joy-jumping the turnstiles at the Utica Avenue A-train station and then cuffing those who swarm the area to protest. Shouting gives way to baseball bats, guns, looting--until all hell breaks loose.

The news of the riots travels fast on social media, and as Platzer's title announces, the word is out: Bed-Stuy is burning. This is especially bad news for Aaron, who, with his journalist girlfriend, Amelia, and their newborn son, Simon, are the only whites on a block of brownstones already pricing out long-time black owners. Aaron has a gambling problem and was kicked out of the rabbinate for stealing from his synagogue to cover his bookie debts. Now a successful investment banker, he is at the Belmont track when he learns that his family and home are under siege by the furious crowd. In a single violent day, Johns Hopkins MFA graduate and magazine journalist Platzer captures the tension of race, privilege and callous "broken window" law enforcement.

Aaron and Amelia are on center stage of Bed-Stuy Is Burning, but Platzer's novel also includes an ensemble of engaging support characters. Simon's nanny is a devout Jamaican immigrant in the process of converting to Islam. The block's unofficial maintenance super, Jupiter, is a wise migrant from Georgia with an angry teenage son caught up in the melee. He knows no good will come of the rioting: "This was going to define some of these kids' lives. Some would get killed. Others would kill. Reputations would be made. Men would spend the rest of their lives in jail because of this one day." A lesbian teen arrested in the taunting crowd sweep, Sara watches her brother beat down by the police and breaks free to join the rioters in front of Aaron's house. Even NYPD Commissioner Bratton makes an appearance to denounce the troublemakers, with a cameo press conference question from Ta-Nehisi Coates.

Platzer paints with a broad brush, but his characters are robust, right down to the food in their fridges or the cut of their frohawks. His story is about more than big social issues. It is about the masks people wear to hide insecurities--masks that are stripped off in the face of violent confrontation. An emotional Sara describes the class division in the neighborhood during a shouting match with Amelia: "You chose this place to live thinking there wouldn't be any consequences. S**t. You think people are just going to welcome you like they're thrilled you moved in? What's wrong with you people?" A bad day in Bed-Stuy is a vivid microcosm of the United States, but the hope Platzer suggests with his characters' healthy unmasking offers optimism for the whole country's days ahead. --Bruce Jacobs, founding partner, Watermark Books & Cafe, Wichita, Kan.

Shelf Talker: Brian Platzer's first novel captures a violent day in the uneasy life of a gentrifying Brooklyn neighborhood where the fragility of love, parenthood, class and race is put to the test.