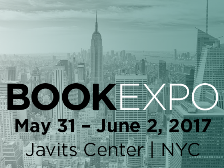 This year BookExpo dropped America from its name and dropped to just two days with the trade show floor open. Besides being shorter, the show was smaller, taking up most of one level at the Javits Center, with more things on the show floor that were elsewhere in many past shows. Aisles grew larger, and some groups were noticeably absent, such as international publishers. Book bloggers were not welcome, and some long-established independent book publicists had difficulty obtaining badges. It was hard not to be concerned about the direction and overall health of the show.
Still, despite the shrinkage problem, BookExpo 2017 was full of activity: many wonderful established and new writers signed and discussed their work; the American Booksellers Association held its annual meeting and town meeting; groups celebrated major awards, including the Audiobook Publishers Association's Audies and Every Child a Reader's Children's & Teen Choice Book Awards; editors built buzz about upcoming books; panels addressed a range of topics, from how to handle controversial books and authors to how to improve diversity; booksellers introduced themselves to publisher publicists; and a huge crowd heard Hillary Clinton and Cheryl Strayed in conversation. There were excellent parties around the city, too, ranging from huge events hosted by large publishing houses to, for example, a wonderful celebration of commission group Parson Weems's 20th anniversary. And once again the serendipitous nature of BookExpo was rewarding: it's a great place to meet old friends and make new friends and important new contacts. Let's hope the show goes on!
---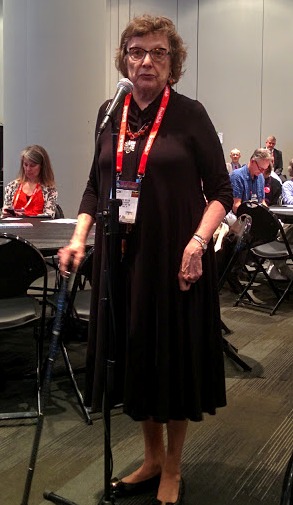 Rozanne Seleen at the ABA town hall
During the ABA's annual town hall meeting last Thursday, Rozanne Seelen, owner of the Drama Book Shop in Manhattan, announced that her store will turn 100 years old this year and remarked that "contrary to legend," she has "not been there since the beginning." Seelen said she was concerned with the increased consolidation among publishers and the possibility of having to pay fewer but far larger and more expensive bills. At various times over the years, she has had to spread out payments to help keep the store afloat; that is harder to do when one bill can cover dozens of publishers. Reflecting on these and other changes in the industry, Seelen said she hoped to see independent bookstores hanging on together for as long as she lives. "We do books. These large places do products."
---
While introducing Hillary Clinton and Cheryl Strayed for their Thursday evening panel conversation, Simon & Schuster president and CEO Carolyn Reidy remarked: "No matter where you fall on the political spectrum, remember that 65 million people voted for Hillary Clinton last year. And if just a small fraction of those purchase the book, we will still have the biggest book of the year. We at Simon & Schuster welcome your help in achieving that milestone."
---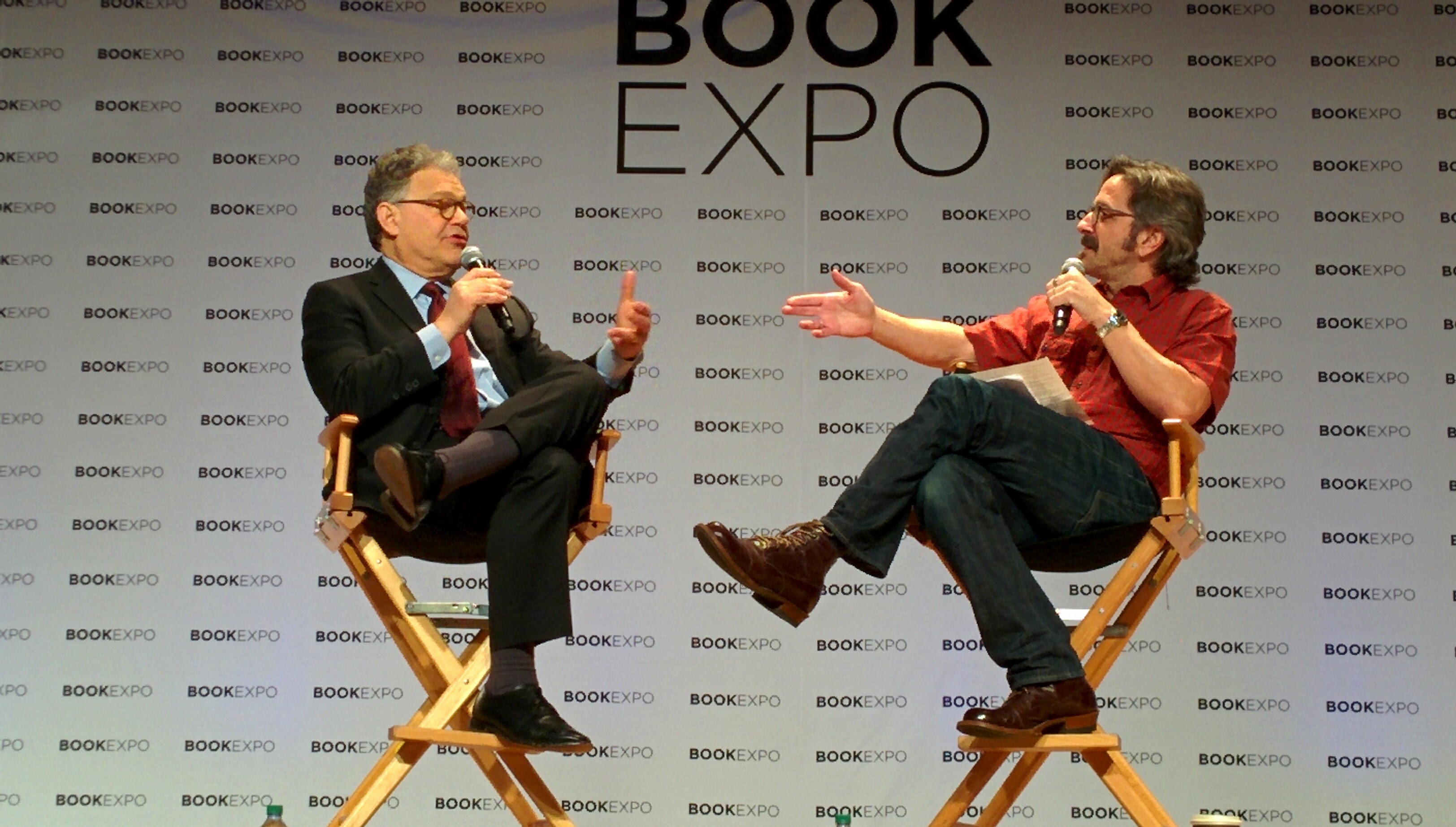 Senator Al Franken (D., Minn.) and comedian Marc Maron began their Friday afternoon discussion, entitled "WTF Is Happening, Senator Franken?," with a brief reminiscence of Franken's debate with former Fox News host Bill O'Reilly at BookExpo America in 2003. The debate, which was televised on BookTV, began a much-publicized feud between O'Reilly and Franken that saw Fox News file an injunction against Franken in the hopes of stopping the publication of Franken's book Lies and the Lying Liars Who Tell Them: A Fair and Balanced Look at the Right (Dutton). The case was ultimately thrown out, and Franken's book became a number one bestseller before it was even released.
What Bill O'Reilly and Fox News didn't understand was that "satire is protected speech even if the object of the satire doesn't get it," Franken said last week, and recalled that his wife suggested hiring a marching band to play outside of the Fox News headquarters as a thank you for increasing the book's sales. He also reported that not long afterward, Arianna Huffington told him that it was as if "Bill O'Reilly walked up to you and handed you a check for a million dollars." Reflecting on the collapse of both Bill O'Reilly's and Roger Ailes's careers due to sexual harassment scandals, Maron said that they had managed to eventually "hoist themselves on their own petards," to which Franken quickly replied that it was "not the petard they're hoisting themselves on."
Toward the end of the conversation, Maron asked if Franken's new book, Al Franken: Giant of the Senate, might signal a future run for president. Franken insisted that he doesn't want to run for president, and neither does his family want him to run for president, but joked that he was tempted to do his first book signings in Manchester, N.H., and Des Moines, Iowa, just to fuel speculation. After Maron insisted that Franken could do it, the latter remarked that everyone was saying that only "because Trump is the president."
---
During a panel discussion called "Bestseller to Blockbuster: Authors Talk About the Book to Film Adaptation Process," author and director Stephen Chbosky (The Perks of Being a Wallflower) described adapting a book into a movie as akin to "turning a cauldron of soup into a bouillon cube," adding that the most important thing for an author to do is to "make sure you choose people of like mind who love your book."
R.J. Palacio, the author of Wonder (Chbosky is directing the upcoming movie adaptation), likewise compared the process of adapting a screenplay with turning "a page of dialogue into a haiku," and had looked to the movie versions of To Kill a Mockingbird and Stand by Me as examples of what Wonder the film could be.
Nicola Yoon, author of Everything, Everything, said she got incredibly lucky in that she connected immediately with the director of the movie version of Everything, Everything, who valued and often sought feedback from Yoon. She also reported that she and her husband went to go see the second Fifty Shades of Grey movie simply to see the trailer for Everything, Everything run beforehand.