Admiration for emcee Alan Alda (If I Understood You, Would I Have This Look on My Face?, Random House Audio) and the value of reading by audiobook were recurrent themes during the Audio Publishers Association Author Tea, held Friday afternoon in front of a notably large and enthusiastic audience.
Before introducing guest speakers Marissa Meyer, Daniel José Older and James Patterson, Alda, who has narrated several audiobooks, called the narration process "a fascinating experience because there you are, six hours a day for a week, saying the book out loud. It drives you crazy. You start to mutter the words. One word means the same as another word. And you mispronounce common everyday words, like your own name. It's extraordinary how that happens.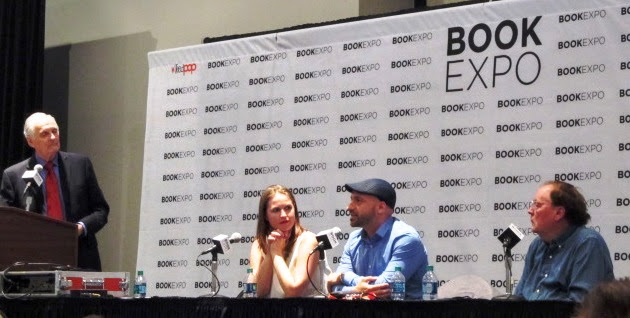 Alan Alda, Marissa Meyer, Daniel José Older and James Patterson
"But the thing that's wonderful is that when you do an audiobook, you have an advantage that you don't have when the person is reading the book off pages. You have the chance to supply the tone of voice, and give it the meaning that you really meant it to have when you wrote it."
"Not gonna lie. It is pretty cool to be standing on stage with Alan Alda," said Meyer (Renegades, Macmillan Audio), who admitted she did not know much about making audiobooks, but after her first novel was recorded she "realized how incredibly lucky I was that Macmillan had chosen Rebecca [Soler] because she absolutely nailed the story, the characters, the voices.... And it was one of those moments in listening to it where I felt, as a writer, like together Rebecca and I were able to bring these characters to life in an incredibly real way."
Older (Shadowhouse Fall, Scholastic Audio) noted that while there are many motivations for becoming a writer, "if I had known known that one day Mr. Alda would say my name, I would have started writing much younger."
He described the rising popularity of audiobooks as "a full circle moment in literary history. The roots of literature are in spoken word, not Microsoft Word.... That's where stories come from--people talking to each other out loud and saying these words. And that matters. It matters in process and it matters in product.... I think of writing as a form of incantation, as a form of magic. And it's a powerful statement that we get to hear these things said out loud."
Patterson (Crazy House, Hachette Audio) opened his presentation with a declaration: "Listening to an audio is reading. A lot of gatekeepers don't buy into that, but I do."
Noting the audiobook "is only scratching the surface of its potential importance and its audience," he offered a pair of recommendations. "The first suggestion is that some audiobook people have to go out to Silicon Valley. We need to redesign audiobooks so they can be sold at a better price." He also advocated for offering an irresistible audiobook package, which "could include, just for example, a John Grisham, a Patterson, Hillbilly Elegy, a Wimpy Kid novel, Alan's new book," to automobile makers at close to cost if they would agree to put it in every new car they sell.
"Audiobooks need trial," he concluded. "And that's the kind of thinking directionally that audiobooks need to fulfill their potential--a better retail price, better production at times, and massive trial. Because to try audiobooks is to fall in love with them. I'm James Patterson, and I read by audiobook." --Robert Gray