Pennie Clark Ianniciello, Costco's book buyer, has chosen Before the Fall by Noah Hawley (Grand Central, $15.99, 9781455561797) as her pick of the month for June. In Costco Connection, which goes to many of the warehouse club's members, she wrote: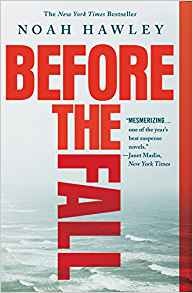 "One of life's great small pleasures is falling in love with a book and then realizing that the author has a backlist you get to explore. That's just what happened after I read this month's book buyer's pick, Noah Hawley's Before the Fall.

"The story begins with the crash of a small private jet off the coast of Martha's Vineyard. Of the 11 passengers, only two survive: a painter and a young boy, who is now heir to a large family fortune. The suspense builds as readers move between the aftermath of the crash and the lives of the passengers before they perished.

"Hawley is so talented; I believe many readers will fall for his writing just as hard as I did."