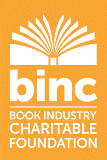 The Book Industry Charitable Foundation has named the 27 recipients who will receive $109,000 in education scholarship funding as part of Binc's Higher Education Scholarship Program. They were selected from 125 applicants, including bookstore owners, booksellers, former Borders Books employees or their dependents. A complete list of recipients, who represent 23 stores in 14 states, can be found here.
Included among them were two $10,000 scholarships, 24 $3,500 scholarships and one $5,000 Karl Pohrt Memorial Scholarship, which is granted to an indie bookstore employee candidate who has overcome learning adversity or is a non-traditional student. Since 2001, the foundation has supported the educational goals of more than 600 booksellers, granting over $1.9 million in awards.
"Binc has helped ease the cost of a college education. Learning about the award winners, their achievements and aspirations is inspiring," said Binc executive director Pam French. "Congratulations to all of the college scholarship winners!"
"I am truly grateful for your assistance and cannot thank you enough," said Morgan Bryan, a bookseller at Booktender's Secret Garden in Doylestown, Pa. "The support Binc has given me over the years empowers me to keep pursuing my dreams and working hard. Thank you for all that you do!"
Mykala Matheny of Viewpoint Books in Columbus, Ind., said, "I would not be able to pursue what I love to the extent to which I am without the support I've received through Binc. You have enabled me to begin living the life I dreamed of in high school, and I want to thank you from the bottom of my heart."