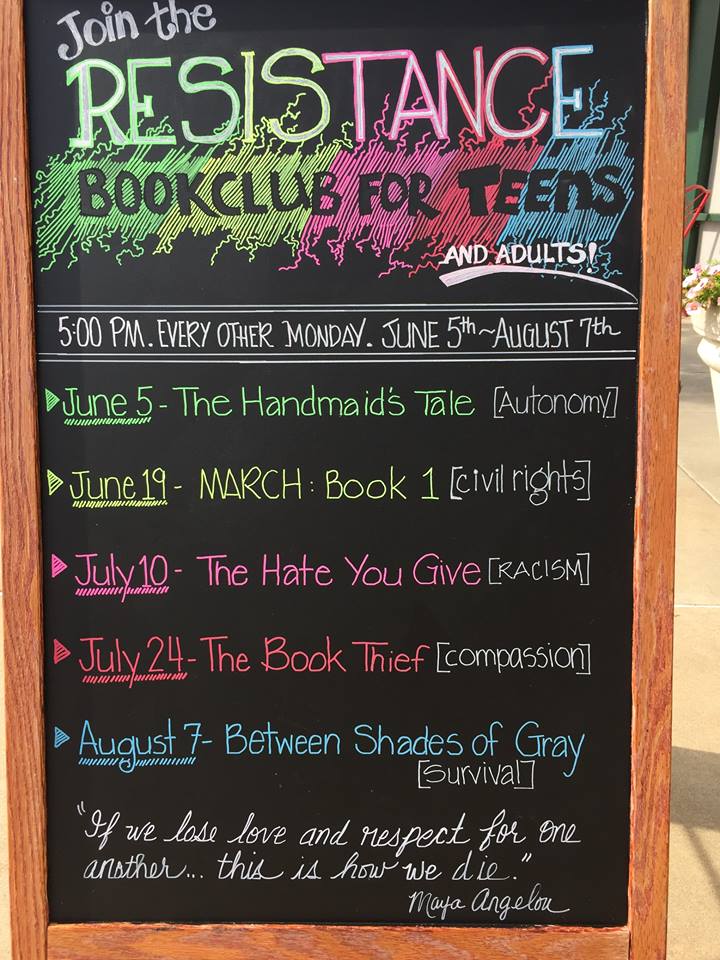 Through August 7, Watermark Books & Cafe in Wichita, Kan., is hosting a Resistance Bookclub for Teens every other Monday. The inaugural meeting this past Monday featured a discussion of Margaret Atwood's The Handmaid's Tale, and over the coming weeks the bookclub will read March: Book One by John Lewis, Andrew Aydin and Nate Powell; The Hate U Give by Angie Thomas; The Book Thief by Markus Zusak; and Between Shades of Gray by Ruta Sepetys. Each of the five selections were chosen to highlight a particular theme related to resistance: autonomy, for The Handmaid's Tale; civil rights, for March: Book One; racism, for The Hate U Give; compassion, for The Book Thief; and finally survival, for Between Shades of Gray.
Store-owner Sarah Bagby reported that customers have responded enthusiastically, with bookclub participants and nonparticipants alike buying the selected books. For the opening meeting "both adults and teens came and had a wonderful discussion" on The Handmaid's Tale led by Watermark marketing manager Shelly Walston, who is also a high school teacher. Said Bagby: "We're excited with the groundswell of support, including adults attending with their kids, or nieces, or nephews."
This summer marks the fifth year that Watermark Books has hosted a teen-focused bookclub tied to a particular theme. Past bookclubs have focused on everything from the work of John Green to books that were all firsts in a series. According to Bagby, her staff started by looking at the 2017 "Reading Without Walls" challenge and then branching out from there. They chose the theme of "resistance in all things, not just political," as a way to "address the zeitgeist of feeling silenced," and Bagby noted that the protagonists in all five chosen books "speak up or out."