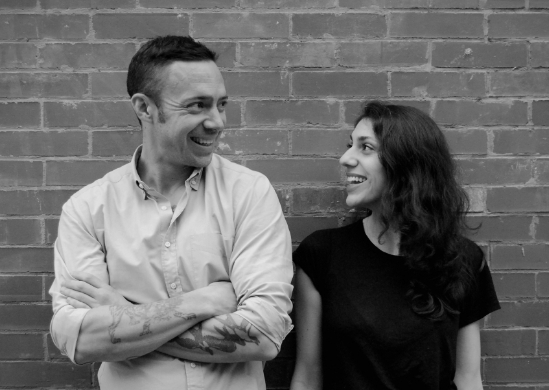 Tom Roberge and Emma Ramadan
Emma Ramadan and Tom Roberge plan to open Riffraff, a bookstore and bar at 215 Dean Street in Providence, R.I., later this year. Bookselling This Week reported that they "are taking their inspiration from other bookstore/bars, including the Wild Detectives in Dallas; Trident Booksellers & Café in Boston; the Spotty Dog Books & Ale in Hudson, N.Y.; and BookBar in Denver. A video offers a tour of preliminary construction at Riffraff.
Ramadan and Roberge have raised approximately 75% of their startup costs through personal investments and outside support. They have also started a community lending program similar to that of Brooklyn's Greenlight Bookstore.
"It just seemed like a good way to get people in the local community involved and get them literally and figuratively invested in what we're doing," said Ramadan. "The response has been really good. I think we've had 12 couples or individuals in the community give us an investment. People within the community just seem really excited about the idea of contributing to a project in a way that is more concrete and personal than a Kickstarter campaign."
Ramadan noted that they "picked Providence because there wasn't a bookstore here already that was doing what we wanted to do. We fit right in, and I think we're filling a need that no one else is filling yet."
Riffraff's 1,500-square-foot space will be split evenly between bookstore and bar, "the kind of place where if you just want to come in and browse for books without being bothered by people who are drinking, you don't have to worry about that." said Ramadan. "If you just want to come because you like our bar and you want to be surrounded by people who are browsing for books, that's also possible. We are trying to make it both spaces, but integrated in ways that make sense."