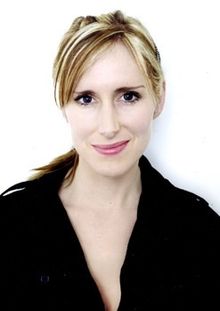 Lauren Child
Lauren Child, author/illustrator of the beloved and award-winning Charlie and Lola books, has been named the new Waterstones children's laureate, succeeding Chris Riddell to the two-year post, the Guardian reported. She is the 10th writer to hold the position. In addition to a medal, the recipient gets a £15,000 (about US$18,985) bursary.
Speaking from Hull, the 2017 U.K. City of Culture where she was presented with her medal by Riddell, Child said she hoped to work with artists as well as writers and illustrators during her time in office. "I would love to talk to other artists whose work I admire. I think it is important for children to know we have our influences and get inspiration from all around us."
Child poverty will also be a focus. "Children can't learn if they are hungry," said Child, who has worked with UNESCO on its Education of Children in Need program. "How can we expect them to take on all this information when they are going without anything to eat?"
The Bookseller noted that while Child is positive about the state of the children's book market, she is concerned about a lack of diversity in the industry. "It's wonderful to hear that we're selling more children's books, so long as they're not all the same type of children's book. That's in terms of [the] diversity of characters, the kind of art, the kind of subjects they're talking about. Particularly as my [adopted] daughter comes from Mongolia, I'm thinking about it even more now. She's often not seeing herself reflected on television or in books."