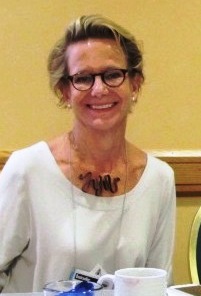 "It's more the day-to-day pleasure of the people I work with and the customers I talk to and my colleagues in publishing and bookselling," said Cathy Langer, director of buying at Tattered Cover Book Store in Denver, Colo., reflecting on some of the highlights of her 40-year career. Earlier this year, Langer announced that she would retire from the store in 2018. "That's what I'm going to miss the most--my colleagues. The people in this business are incredible."
Langer added that while events with former presidents and celebrities like Bruce Springsteen were "always thrilling," she would remember the smaller, everyday things most fondly. "It's not so much just one thing," she explained. "It's waking up and really being excited to go to work every day, over the course of 40 years."
When Langer first joined Tattered Cover in 1977, the store was a little over 1,000 square feet on one story. She heard about job openings there from a friend, who suggested that Langer at least stop by the store and meet owner Joyce Meskis. The pair hit it off, and Meskis offered Langer a job.
"She asked me to commit to a year, which was completely horrifying to me, but I did it," recalled Langer, laughing. "And as you can see, it was the right decision. It was a good fit."
Langer began buying not long after joining Tattered Cover, and she'd only been there a few years when the store expanded across the street. In the years since, she has seen the Tattered Cover change many more times, a result of long-term changes in the book industry and Meskis's own proactive decisions as a businesswoman. Langer recalled that during the 1980s, the store moved into a four-story building that had once housed a department store. This iteration of Tattered Cover had more than 40,000 square feet and carried millions of books. It was also the peak of the store's special-order business: the store had an 800 number of its own and, depending on the time of day, there were as many as six to 10 people answering phones and taking orders.
Today the store has four locations across Denver, and Langer has seen Tattered Cover survive many threats that were all supposed to have meant certain doom for independent bookstores, from discount chains like Crown Books and superstores like Barnes & Noble and Borders to the rise of Amazon and the proliferation of e-books. Langer explained that during those turbulent times, she "never freaked out," believing in the core value of books and looking for opportunities in a changing business.
"To stay in this business you have to be a) a book lover but b) an optimist and a realist," she said. Langer recounted that when people began predicting that print books would soon be entirely replaced by e-books, she was confident that it would not happen. "I said no, they're not. And no, they didn't."
Langer will be succeeded at Tattered Cover by Stephanie Coleman, who has been working with Langer for about two years and is gradually taking on more of her frontlist buying and director of buying responsibilities. When it comes to her plans for retirement, Langer said that she and her husband have a month-long trip to Italy planned for the fall of 2018, and beyond that they plan to travel more while also spending more time with their children and grandchildren. Langer also plans to use the opportunity to catch up on many of the great books that happened to slip by her. She said: "I've been lucky to be reading six to 12 months into the future, but there's a lot I missed. I'm soliciting suggestions."
When asked about any plans for a retirement party, Langer answered that it was still a little bit early for that, and there are plans at Tattered Cover for a big celebration for Joyce Meskis this summer. "One celebration at a time, and I'm very shy," said Langer. "Maybe I'll have some small dinners and a few drinks with publishing friends and booksellers."