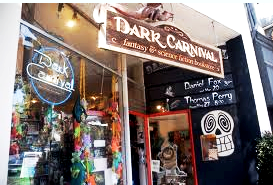 Dark Carnival, a sci-fi bookstore in Berkeley, Calif., will close after 41 years in business, Berkeleyside reported, adding that sister store the Escapist, located nearby, "may also shutter if sales don't pick up."
Describing himself as heartbroken with the developments, owner Jack Rems expressed his gratitude to the shop's longtime customers. He is currently holding a "progressive sale" and isn't certain yet when the final closing day will be. "I need to pay bills, so as long as by selling off stock we are generating more than it costs [we will stay open]," he said.
One of his loyal customers, author Michael Chabon, who attended the opening of the Escapist in 2011, recalled: "On my first morning in the neighborhood, back in April 1997, Dark Carnival was my first stop--then as now, I considered it, along with Star Grocery, to be one of the chief glories of the Elmwood District.... I bought a paperback copy of one of Gordon R. Dickson's Dorsai novels and struck up a conversation with the remarkable Jack Rems that has lasted ever since. For 20 years, Dark Carnival's stock-in-trade has fed my work and my imagination, and its twisty warren of bookshelves and generous staff have held a place in the hearts and lives of all the Waldman-Chabons (eldest child Sophie worked at Escapist from 2011-13). I'm just devastated by the news."
Chris Juricich, former manager at the Escapist, said, "I'm sad for the loss of the store to the community and no one could ever blame Jack for not having applied his intelligence and passion to its continued survival, but, much like the business of comic book retail, selling reading matter is an uphill climb."