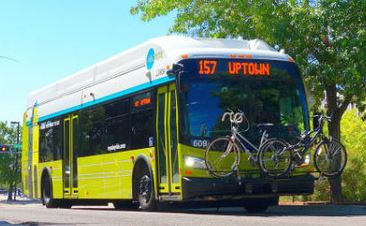 Public buses in Albuquerque, N.Mex., include a cubby full of children's books, "part of the city's Discover a Book program that was started more than a decade ago in an effort to help improve reading skills," the Journal reported. The initiative is tied to the city's larger Read To Me book donation program. Children can read the books while on the bus or take them home. The books are restocked about once a week.
Nick Manole, marketing specialist for the city's ABQ Ride department and president of the Read to Me program committee, said a book drive is held every winter and the books distributed to the ABQ Ride department as well as to local nonprofits, schools with large numbers of low-income students and homeless shelters. This year they collected approximately 60,000 books, with about 8,000 going to the bus reading program.
"The thought was that we know there are lower income families riding the bus," said Manole. "The benefit is they [the books] are at your fingertips. It's an easy way to access reading and learning." He also noted that other cities have inquired about the concept: "We've had other bus agencies call us and ask how we do it. They want to do it too."