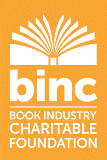 The Book Industry Charitable Foundation is expanding its bookseller safety net with the launch of a pilot Disaster Recovery Assistance for Bookstores program. Recurring requests over the past few years, and the results of Binc's 2016 Bookseller Survey, led to the creation of the initiative.
This assistance is meant to keep bookstore staff employed by helping the store quickly return to normal business operations in the wake of a disaster. Disaster Recovery Assistance for Bookstores is intended to help the store make repairs, replace inventory, and pay utility bills and other related expenses. Bookstore owners may apply to Binc for assistance with expenses that are not the responsibility of the landlord and are not covered by insurance. The assistance grant will typically cover the difference between what the store's insurance pays and the demonstrated financial need to reopen the bookstore, according to Binc.
"Binc reached out to us after being flooded by Tropical Storm Sandy. They helped our employees and gave us the strength to recover," said Annie Philbrick, owner of Bank Square Books in Mystic, Conn.
"Helping bookstores through a disaster is a natural extension of the bookseller safety net," noted Binc executive director Pamela French. "While I hope this program is not needed, it puts in place a way to help a store reopen after a disaster." Any bookstore that has experienced a disaster of any size should contact Binc at 866-733-9064 or help@bincfoundation.org.