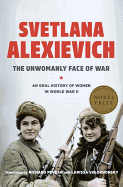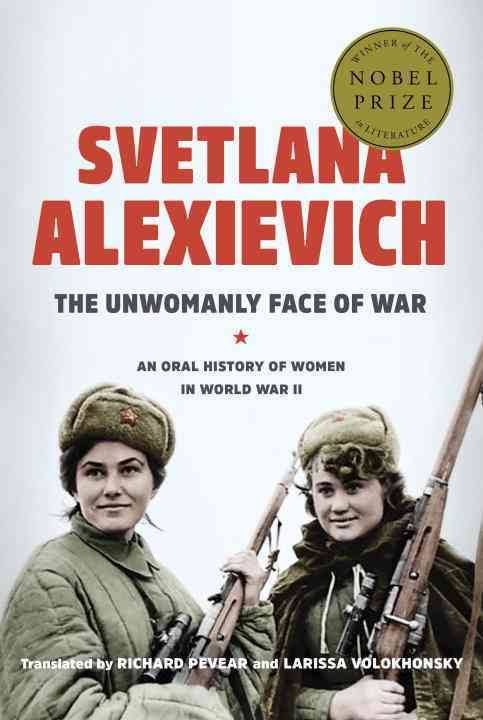 Since Svetlana Alexievich won the 2015 Nobel Prize in Literature, a number of publishers have republished her decades-old classics in English translation, including Voices from Chernobyl and Zinky Boys. Originally published in 1985, The Unwomanly Face of War: An Oral History of Women in World War II is a brilliant work of history and reporting that showcases Alexievich's boundless empathy and inimitable style.

Instead of a chronological history focused on military affairs, The Unwomanly Face of War patches together dozens of voices under themes that include love during wartime and the backbreaking, thankless tasks many women performed behind the front lines, such as laundry and baking. Almost all her interviewees are women, some of the approximately one million who served in the Soviet army during World War II. Alexievich's intent is to tell the story of these remarkable women, but also to tell another side of war:

"When women speak, they have nothing or almost nothing of what we are used to reading and hearing about: How certain people heroically killed other people and won. Or lost. What equipment there was and which generals. Women's stories are different and about different things. 'Women's' war has its own colors, its own smells, its own lighting, and its own range of feelings. Its own words. There are no heroes and incredible feats, there are simply people who are busy doing inhumanly human things."

As that passage indicates, Alexievich's prose manages to be both conversational and heartbreakingly lyrical. Her sentences are phrased in unusual ways, often ending in fragments or ellipses, and she inserts herself into the narrative enough for the reader to get a sense of the context behind the conversations she records. After the Soviet Union's costly victory, female veterans returning home were often encouraged to downplay their service, even suffering from damaging rumors about their supposedly licentious behavior at the front--"Men didn't share the victory with us. It was painful.... Incomprehensible...." Many of the women Alexievich speaks to appear to be breaking long-held silences on the subject, and their stories are all the more raw and gripping for that fact.

Alexievich's approach is wide-ranging yet grounded in anecdotes from women fighting as partisans behind enemy lines, serving as nurses, drivers, snipers, mechanics, foot soldiers, scouts and much more. Some of them tell lengthy, gutting stories; others can hardly speak about the war. Alexievich has an eye for odd details that border on the absurd, such as the woman who recalls bringing a whole suitcaseful of candy to war. And, contrary to Alexievich's claim, there are a few "heroes and incredible feats.": "Altogether I carried 481 wounded soldiers from under fire," Maria Petrovna Smirnova recalls. More often, though, The Unwomanly Face of War is a necessary account of almost unbelievable suffering told on a human scale. On the incomprehensibility of war, Alexievich concludes: "There is only one path--to love this human being. To understand through love." --Hank Stephenson, bookseller, Flyleaf Books

Shelf Talker: The Unwomanly Face of War is Nobel Prize-winner Svetlana Alexievich's searing oral history of World War II through the eyes of Russian women who fought and served.