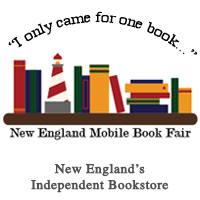 Congratulations to New England Mobile Book Fair, which has opened in new space "just down the road," in Newton, Mass. The store is now in Marshalls Plaza, between a CVS and Newton Warehouse Wines & Spirits, resulting in a retail stretch of "band aids, books, and booze!" as the store wrote on Facebook.
New England Mobile Book Fair had decided to move when the lease on its 32,000-square-foot space in Newton Highlands ended in March, wanting to downsize significantly after several years of sales declines. Tom Lyons, who bought the store in 2011, said earlier this year that he wanted to cut his inventory of a million volumes, and carry more children's, mystery, fiction, history and cookbooks and fewer business, humor, sports, religion and self-help titles.
The store location is part of 30-acre redevelopment area that will include housing, retail and office space. The new space is available only for two years, but the city and the real estate investment company doing the redevelopment have indicated that they hope the store will be a permanent part of the project.
New England Mobile Book Fair is now located at 241 Needham St., Newton, Mass. 02464.