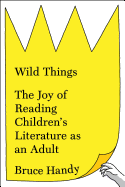 "It should go without saying that the best children's literature is every bit as rich and rewarding in its concerns, as honest and stylish in execution, as the best adult literature," Bruce Handy writes in the introduction to his debut, Wild Things. However, children's books, especially picture books, are often snubbed or dismissed by adult readers and critics, though they are "also as complicated, stubborn, contradictory, and mysterious" as any novel written with a grown-up audience in mind. In Wild Things, Handy, a veteran cultural critic and a longtime lover of children's literature, presents an intelligent, thoughtful and often funny critique-cum-defense of kid lit in general and a few classics in particular.

Beginning with Goodnight Moon (so ubiquitous in American nurseries that Handy dubs it "gear," like a stroller or pacifiers), he explores the cultural forces that shape these beloved stories and their large, underlying existential themes: Beatrix Potter's animal tales; Maurice Sendak's fever-dream picture books; Dr. Seuss's zany, rhyming early readers. Handy read many of these as a boy and rediscovered them when his two children were young, but his keen eye is rarely sentimental; he includes thumbnail biographical sketches of the authors and asks insightful questions about what makes their stories tick. Few critics would think to compare The Runaway Bunny to Portnoy's Complaint, but Handy gets away with it--partly because of his obvious delight in the former, which he calls "as incisive a treatise on the parent-child bond" as Philip Roth's novel.

Handy's chapters are arranged in a rough chronology, from very early picture books to a few stories for older children, such as Laura Ingalls Wilder's Little House series and E.B. White's masterpiece, Charlotte's Web. His chapter on "Ramona Quimby, American Pest" is particularly enjoyable: Handy, like Beverly Cleary herself, is delighted by Ramona because "life was so interesting she had to find out what happened next." He explores Cleary's oeuvre of titles about ordinary suburban children, who are "as complex, vivid, and singular" as any characters with more dramatic life stories, and admits to a sneaking sympathy for Ramona--pest tendencies and all.

Throughout Wild Things, Handy draws on attachment theory, environmental concerns, religious questions, the teaching of literacy and other big, "grown-up" ideas. But the true joy lies in Handy's love for children's lit and his unabashed insistence that it holds treasures for even the most cynical of grown-ups. Like the books it champions, Handy's is surprising, wise, highly entertaining and thoroughly satisfying. --Katie Noah Gibson, blogger at Cakes, Tea and Dreams

Shelf Talker: Cultural critic Bruce Handy presents a wise, witty exploration of children's literature and its lasting appeal for adults.