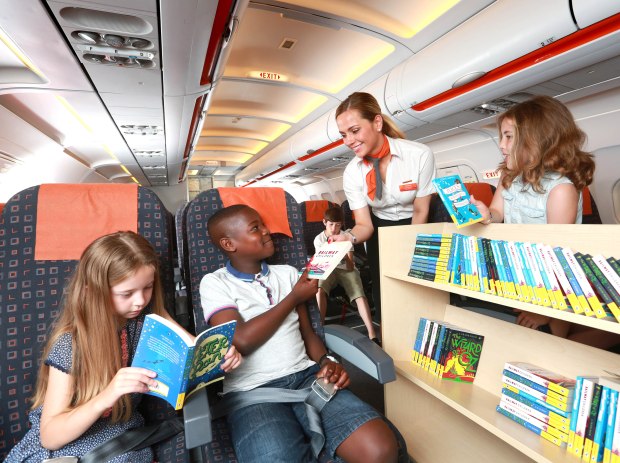 Budget airline easyJet has launched a "Library in the Sky" for its entire U.K. fleet with 7,000 classic books selected by children's author Jacqueline Wilson. The Bookseller reported that the books, published by Penguin Classics, will be distributed across 147 aircraft in the passenger seat-pockets. Children will leave the books on board for the next passengers. Once they have landed, they can also download free samples of other classics as well as a sample of Wilson's latest book, Wave Me Goodbye, from the easyJet Children's Book Club. The first titles will be on board this Saturday.
Launching the initiative at London's Gatwick Airport, Wilson described flying as "the perfect place to escape into a literary adventure. The long summer break is the ideal opportunity for children to get stuck into a great story.... Reading soothes, entertains, grows vocabulary and exercises the mind and a flight is the perfect place to escape into a literary adventure. I've chosen books that children might not have read, but are familiar with, maybe from film and television."
Carolyn McCall, easyJet CEO, said the "launch of our summer kids book club is another initiative designed to make flying with us more fun and help to get kids hooked on a book at the start of the holiday season at the same time."
The initiative follows research by easyJet, which polled 2,000 British parents with children ages eight to 12; 83% of the parents said they believe children are reading less than they did when they were younger.