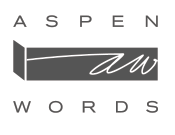 NPR Books will be the official media partner for the inaugural Aspen Words Literary Prize, a new, annual award for a "work of fiction with social impact" to be given by the Aspen Words literary foundation. The award comes with a prize of $35,000 and is open to novels and short story collections. Publishers have until August 1 to nominate titles; NPR Books and the Aspen Institute will announce the longlist at the end of the year.
A five-member jury consisting of Aspen Institute trustee and novelist Stephen Carter, librarian and Aspen Words participant Jessica Fullerton, Marine Corps veteran and novelist Phil Klay, author and Columbia University dean of social science Alondra Nelson, and author Akhil Sharma will decide the finalists and winner.
The Aspen Words Literary Prize has been "endowed in perpetuity by an anonymous donor." More information about the prize can be found here.