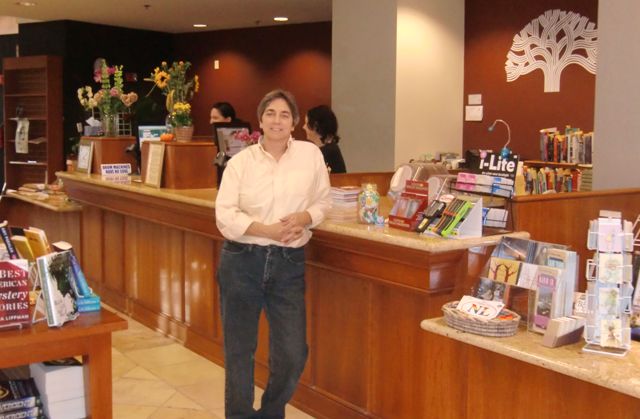 Luan Stauss at Laurel Book Store
Laurel Book Store in downtown Oakland, Calif., is facing financial difficulties and may have to close unless it can raise $30,000, the San Francisco Chronicle reported. Lured by the "much-touted revitalization of downtown" Oakland, owner Luan Stauss moved her 16-year-old store from the city's Laurel district into the historic Lionel J. Wilson Building in downtown three years ago. While Stauss expected business to boom following the move, she has found that despite bustling bars and restaurants and the presence of major employers like online-radio company Pandora, the area is not a neighborhood "where people stroll and browse."
When Stauss moved in three years ago, her new landlord, the city of Oakland, gave her six months rent free and also agreed to "match up to $50,000 in capital improvement." Despite the financial breaks and incentives given to small businesses, the Chronicle reported, retailers are struggling, especially in downtown. Stauss's lease is up at the end of the month, and she fears that unless she can raise a significant amount of money, it won't be renewed. But beyond that, without a large increase in foot traffic it will be hard for the store to survive long-term.
According to the store's website, last October Stauss began looking for a business partner "who can bring energy, resources, and the potential for growth," but "as of today, the right fit hasn't come along." She's still looking for a business partner, and is hoping for specific customer support, both in purchases--if at least 750 customers spend $100 or more each in two weeks, the store would raise enough money to continue--and in promoting the store on social media.
"There's a lot more downtown than people think there is," Stauss told the Chronicle. "There's an education process that not happening. There's still the perception that it's dangerous here."