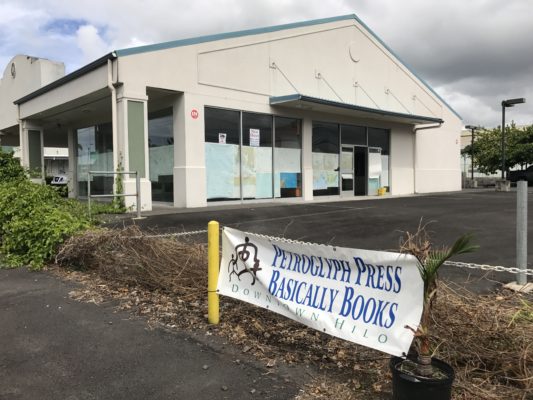 Having "been given an amazing new opportunity at a great new location," Basically Books is "moving a mile and a half down the road," to 1672 Kamehameha Avenue in downtown Hilo, Hawaii (on the island of Hawaii). The bookseller's final day at its former location was last Saturday, and plans call for reopening July 29 with a Where's Waldo party at the new space.

Basically Books is a subsidiary of publisher and printer Petroglyph Press. Both businesses will be able to take advantage of the "highly visible location [that] has abundant free parking and a covered patio," the Hawaii Tribune Herald reported. Although the physical and mailing addresses will change, phone numbers, e-mail and website addresses will remain the same.
"We were offered a golden opportunity we couldn't pass up--a bright, prominent location with lots of parking. Our customers will love this new location," said David Reed, president of the family business and co-owner with his wife, Christine, who added: "We appreciate the support of our downtown Hilo friends and neighbors through the years and we will continue to be downtown merchants at heart. People can stop by to pick up a 'Moving Sucks' lollipop and a discount coupon for August in our new location."
Petroglyph Press was founded in 1962 by Stephen and Frances Reed. David began managing the business in 1974 when his parents retired, and Christine became a partner after their marriage in 1976. They expanded the operation in 1985 with the establishment of Basically Books.