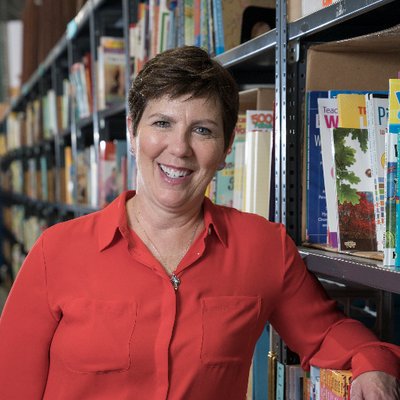 Becky Anderson
It's not unusual for booksellers to become mayors or council members of their towns, but now Becky Anderson, co-owner and manager of Anderson's Bookshops in Naperville, Aurora, Downers Grove and La Grange, Ill., is setting the bar higher: she's running for Congress in Illinois's 6th Congressional District.

Anderson is running as a Democrat in a district that Hillary Clinton carried by 7% last year and that is currently represented by Republican Peter Roskam. She's running as Becky Anderson Wilkins--as she notes in campaign material, she has been married for 34 years to Chuck Wilkins and has three children. She is currently a Naperville City Councilor, founded IndieBound Naperville and is best known in the bookselling world as a former president of the American Booksellers Association.

"As a small business owner, my philosophy has always been that you treat your customers like you treat your family," Anderson said. "If they're upset, you listen and work toward a solution. If there's something they need, you try to find it. And if you're honest and treat them with respect, the relationships you build will last a lifetime. Now, that may sound simple, but for some reason it's a philosophy that's too complicated for Congress. That must change. We need someone representing us who will work as hard for the people of the Sixth District as they would for their own family. That's the approach I'll bring to the office."

She added: "For too long, Peter Roskam and [Illinois Governor] Bruce Rauner have failed the Sixth District, using our community as pawns in ideological battles. In Congress, I will lead on the issues that impact this district every day. I will continue my advocacy on behalf of high-quality childhood education and literacy. I will fight for women's reproductive rights and a fully-funded Planned Parenthood. And I will put the needs of small business owners and entrepreneurs above an obsession with granting tax breaks to big corporations."

The campaign has already released its first video, called "Heavy Lifting," which can be seen here.

Oren Teicher, CEO of the American Booksellers Association, who nearly won a Congressional race many years ago, has given Anderson one of her first endorsements: "Speaking personally (as ABA cannot be engaged in electoral politics), I could not be more thrilled! Becky is a proven leader. As a successful entrepreneur and businessperson, she has been a national leader in the influential localism movement, and her work ethic, her empathy, and her business acumen would make her an absolutely superb Member of Congress. Becky and I have spoken about this race, and, I know from personal experience that a Congressional race is a significant undertaking, but I'm confident she's got what it takes to be successful. Go Becky!"