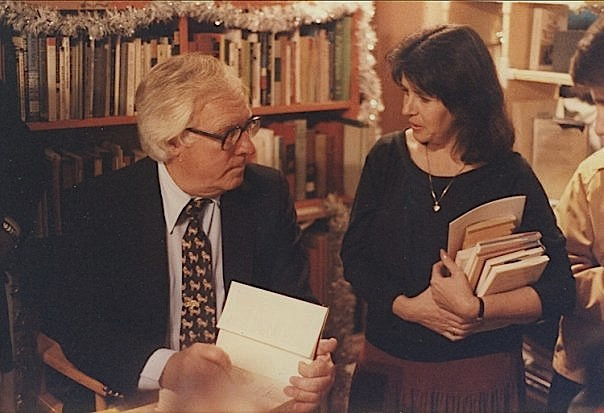 Ray Bradbury with Lorraine Zimmerman at Fahrenheit 451 Books in 1982.
Lorraine Zimmerman, owner and co-owner of three California bookstores, died on July 12, Laguna Beach Indy reported. She was 76.
In 1976, Zimmerman bought the legendary Fahrenheit 451 Books in Laguna Beach, which she sold in 1988. After moving to Northern California, in 1995, she opened Collected Thoughts Bookshop in Berkeley. After selling the store in 2004, she became a partner in Berkeley's University Press Books.
In 1989, after selling Fahrenheit 451, she told American Bookseller magazine: "Discussing books with customers and local writers; sponsoring literary events; having a finger on the pulse of current American thought through the knowledge of forthcoming books and my customers' requests; having the ability to disseminate hard-to-find information--these were the daily rewards of bookselling."
University Press Books partner Sorayya Carr noted: "Lorraine brought in literature from trade presses and children's books... and we continue to devote one window display, fondly known as 'Lorraine's window,' to these kinds of books."