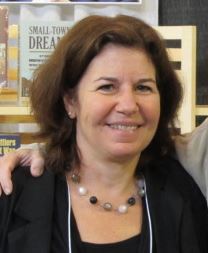 Nina Barrett
Nina Barrett, who founded Bookends & Beginnings in Evanston, Ill., in 2014, is writing a book on the 1924 Leopold and Loeb murder case that will be published next spring by Agate Publishing under its Midway Books imprint. Agate, distributed by PGW/Ingram, is also located in Evanston.

The book will be based on material in the Northwestern University's Leopold and Loeb collections and is tentatively titled The Leopold & Loeb Files: An Intimate Look at One of America's Most Infamous Crimes.
The material Barrett is basing the book on includes the 5,000-page court transcript of the sentencing hearing; the original ransom note sent to Bobby Franks's father; a transcript of the interrogations and confessions of Leopold and Loeb in police custody; psychiatric reports commissioned by Clarence Darrow; and correspondence between Leopold and Elmer Gertz, the attorney who won him parole and kept in touch for the rest of Leopold's life. The book will feature new analysis of some historical materials and previously unpublished graphics.

"We've seen this case tackled repeatedly by true crime writers, and by novelists and dramatists exercising their artistic license," Barrett said, "but nothing compares to hearing Nathan Leopold and Richard Loeb themselves talking about why they decided to murder Bobby Franks, how exactly they accomplished it, and what they felt about it afterwards."

The book also highlights Clarence Darrow, hired by the Leopold and Loeb families to save their sons from the death penalty, and Robert Crowe, the state's attorney who argued the case for the prosecution.

The book has a legal history of its own: it was the subject of a 2014 dispute between Northwestern and Barrett, which was settled in 2015. As a result of the settlement, Barrett and Northwestern share ownership of the book's copyright.

"We're very happy to be working with Nina Barrett and Northwestern on this very worthy project," said Agate president and publisher Doug Seibold. "We think it presents a new and very important perspective on this infamous murder case."

Barrett added that the project began when she curated an exhibit on the Leopold and Loeb case some eight years ago and began delving into "the question of why it's become such a persistent piece of American cultural heritage," she said. "So much mythology has accumulated around its life-and-death storyline and its larger-than-life characters, based on the way contemporary journalists sensationalized their coverage and then other writers and dramatists have continued to embroider their themes. Alfred Hitchcock's film Rope is a great example.

"Reconstructing the story from the original documents--which preserve it almost start-to-finish in dialogue form--felt to me like the process conservators use on ancient paintings to remove layers of dirt and grime that accumulate with time. So in the end you have that same familiar image, now springing to life in an entirely new way: A tragedy of Shakespearean proportions that actually needs no embellishment at all."
Barrett has published three books, including I Wish Someone Had Told Me: A Realistic Guide to Early Motherhood, as well as literary essays and reviews in the New York Times Magazine, the Nation and other publications. She's also a trained chef and two-time James Beard Award winner for her food reporting for Chicago's NPR affiliate radio station WBEZ.