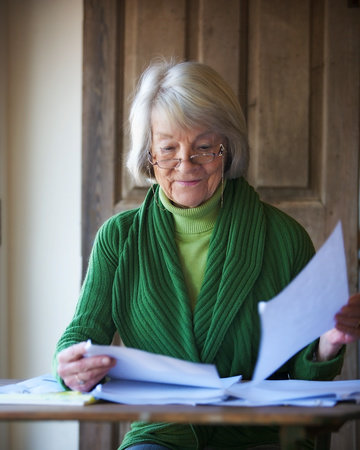 Judith Jones
(photo: Christopher Hirsheimer)
Judith Jones, the legendary editor "who discovered Julia Child and advanced a generation of culinary writers that revolutionized cooking and tastes in American homes, and who for a half-century edited John Updike, Anne Tyler, John Hersey and other literary lions," died yesterday, the New York Times reported. She was 93. Authors and publishing colleagues called her "an extraordinary editor--imaginative, versatile, fascinated with stories, curious about people and places, a deft wordsmith and above all insatiable for the pleasures of French cooking. She talked about it, wrote about it and practiced its arts in her kitchens in Manhattan and rural Vermont."
Her keen sense of editorial timing was there from the start of her career. In 1950 as an editorial assistant at Doubleday in Paris, "she rescued the diary of Anne Frank from a pile of rejects and persuaded her superiors to publish it in the United States," the Times wrote, adding that Jones "was again in the right place at the right time a decade later when a shopworn 800-page manuscript by three unknown women with no literary credentials landed on her desk at the Alfred A. Knopf publishing house in New York. The book, too long and with the uninspired title French Recipes for American Cooks, had been rejected by several other publishers."
Ultimately, Mastering the Art of French Cooking by Julia Child, Simone Beck and Louisette Bertholle opened a new career path for Jones, who had previously edited translations of the French philosophers Albert Camus and Jean-Paul Sartre. She began editing culinary writers: James Beard and Marion Cunningham on American fare, Madhur Jaffrey (Indian food), Claudia Roden (Middle Eastern), Edna Lewis (Southern), Lidia Bastianich and Marcella Hazan (Italian), and many others. Jones also commissioned and edited regional and ethnic food books for the Knopf Cooks American series.
Jones, who joined Knopf in New York in 1957, edited some of the country's best authors and also wrote for Vogue, Saveur and Gourmet magazines. Her books include The Pleasures of Cooking for One and The Tenth Muse: My Life in Food, as well as several cookbooks co-written with her late husband, Evan. She was honored with the James Beard Lifetime Achievement Award in 2006.
"It is impossible to imagine book publishing without Judith," said Knopf chairman and editor-in-chief Sonny Mehta. "Her authors have been recipients of five Pulitzer Prizes, five National Book Awards, and three National Book Critics Circle Awards, and her cookbook authors have been recipients of 41 awards from the James Beard Foundation and 13 awards from the International Association of Culinary Professionals. And Judith herself was honored with lifetime achievement awards from both the James Beard Foundation and IACP. It is no exaggeration to say that she profoundly influenced not only the way America reads and but also the way we cook."
Sharing "with tremendous sadness" the news of her passing, Knopf noted that Jones worked at the publisher for more than 50 years, officially retiring in 2011, "but her legacy continues to this day."