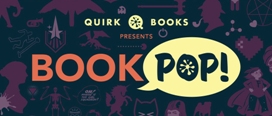 To celebrate its 15th anniversary, Quirk Books is running Book Pop!, a promotion designed to bring a "comic-con experience" to bookstores, libraries and fans, wherever they happen to be. The promotion features three different categories of events: Book Pop! IRL, which brings Quirk Books authors to bookstores for traditional author events; Book Pop! Online, an online event running through August 11 that will include a digital cosplay contest, Quirk author livestreams and digital panel appearances; and Book Pop! Authorless Events, which will provide resources to booksellers and librarians so they can run events "on their own terms and timelines."
Quirk Books has published, among other books, Miss Peregrine's Home for Peculiar Children by Ransom Riggs, Pride and Prejudice and Zombies by Seth Grahame-Smith, and My Best Friend's Exorcism by Grady Hendrix. Among the Quirk authors participating in Book Pop! are Ian Doescher, writer of the William Shakespeare's Star Wars series; Hope Nicholson, author of The Spectacular Sisterhood of Superwomen; and Tania Del Rio, author of the Warren the 13th series.
The promotion grew in part from Quirk's many appearances at comic conventions, where it learned that many of its fans are the bookish subset of comic-con attendees.