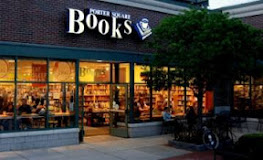 To celebrate its 13th birthday and support literacy for young readers and students, Porter Square Books, Cambridge, Mass., is hosting an Overnight Readathon from Saturday, October 7, at 8:30 pm., to Sunday, October 8, at 7 a.m. The cost is $25 and all proceeds will go to the Porter Square Books Foundation.

Most of the night will be spent reading, but there will be food and snacks--beginning with pizza at 10:30 "because what sleepover is complete without pizza?" Game and activity breaks include Anomia, Mad Libs and Dick: The Card Game or Bards Dispense Profanity.

Breakfast is scheduled for 6 a.m., followed by prizes and raffles and at 7 "stumble bleary-eyed and well-read into the fall morning."

All attendees will be enrolled in the raffle. Every additional $25 donated to the Foundation earns an extra entry, and the top donor will win a special prize of 20% off every purchase at Porter Square Books for one year.

Created in 2014, the Porter Square Books Foundation has a mission of fostering "a love of reading and of books, particularly among children and families in our local communities whose access to them may be limited by economic or cultural factors. Our primary means of achieving this has been through facilitating interactions between children and authors, and by donating books to children and families."