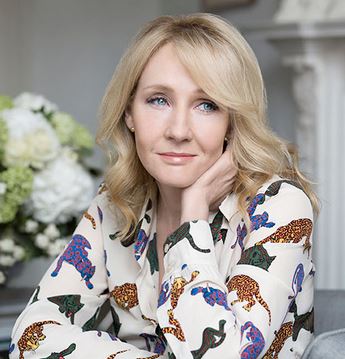 J.K. Rowling
(photo: Mary McCartney)
J.K. Rowling has returned to the top of Forbes magazine's Highest-Paid Authors list for the first time in nearly a decade, displacing James Patterson. Forbes also reported that "fans of the printed (or digital) word will be cheered to know that although five writers on our list had novels made into movies this past year, they nonetheless earned the bulk of their bucks from their books. The top 11 writers sold nearly 30 million volumes in the U.S. over the past 12 months, logging $312.5 million in pretax income."
Falling off the list this year were Veronica Roth, as well as George R.R. Martin and John Green, though "both will likely return; Martin has four Thrones prequels in the works, and Green is publishing Turtles All the Way Down, his first novel in five years, this October," Forbes noted.
To formulate its list, Forbes looks at print, e-book and audiobook sales from Nielsen BookScan figures; considers TV and movie earnings; and talks to authors, agents, publishers and other experts. Earnings were tabulated from June 2016 to June 2017 and are pretax; other fees are not deducted. This year's top-earning authors are:
1. J.K. Rowling ($95 million)
2. James Patterson ($87 million)
3. Jeff Kinney ($21 million)
4. Dan Brown ($20 million)
5. Stephen King ($15 million)
6. John Grisham ($14 million)
6. Nora Roberts ($14 million)
8. Paula Hawkins ($13 million)
9. E.L. James ($11.5 million)
10. Danielle Steel ($11 million)
10. Rick Riordan ($11 million)